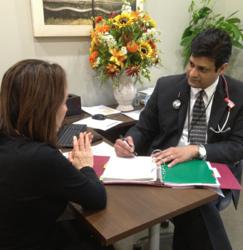 "The residents are so excited to have a physician right at their doorstep and he will be a wonderful addition to our current wellness program." said Jean Dunphy, Executive Director of Willow Towers
New Rochelle, New York (PRWEB) February 08, 2012
Willow Towers Assisted Living in Westchester County, New York and a leading provider of senior housing, has always kept their eye on the changing needs of its residents. They were the first in the county to obtain the new assisted living licensure with dual certification both in enhanced assisted living (EALR) and special needs assisted living (SNALR) thus allowing residents to age in place. They have been garnered with design awards for their magnificent architectural structure and they advanced the art of caretaking by adding a special recreational program for residents which focuses on supporting diminishing skills while recognizing existing capabilities. Now once again Willow Towers is on the cutting edge of care by adding a geriatrician's office on-site.
Willow Towers Assisted Living is pleased to welcome the addition of Dr. Raj Buddhavarapu (aka Dr. Buddha) as a provider of physician services at Willow Towers. Dr. Buddha has office hours at Willow Towers twice per week and will see residents by appointment. Dr. Buddha's credentials are impressive as he is board certified in geriatrics and is Director of Geriatric & Palliative Care at White Plains Hospital. Dr Buddha will be working with the Senior Services Program at White Plains Hospital to assist individuals avoid unnecessary admission to hospitals. "We want to be proactive about caring for the steadily increasing numbers of older adults here in Westchester County," said Jon B. Schandler, President and CEO of White Plains Hospital.
Willow Towers is part of the United Hebrew of New Rochelle full continuum of care campus which includes a nursing home and rehabilitation pavilion. "Our care philosophy has been to consistently seek ways to enhance the quality of life of our residents and to work seamlessly with our healthcare partners to provide options and choices." said Rita Mabli. "Our focus is on keeping our residents healthier and therefore more independent."
"We are so pleased to have the benefit of Dr. Buddha's expertise at Willow Towers to help identify and address the complex needs specific to elderly patients" said Jean Dunphy, Executive Director of Willow Towers, "The residents are so excited to have a physician right at their doorstep and he will be a wonderful addition to our current wellness program."
Willow Towers Assisted Living residence, a licensed Assisted Living facility by the New York State Department of Health, is an eight story state-of-the-art residence with a wide array of amenities, including activity rooms, exercise room, putting green, recreation and cultural activities, transportation, a library with internet computers, and an art studio. Willow Towers offers three restaurant-style meals daily, prepared by an experienced chef, daily housekeeping, personal laundry, scheduled transportation to medical appointments, and other services. In addition, residents have access to a beauty salon, barbershop, 24-hour cafe, and a multimedia room. Willow Towers features a two-story glass atrium and dazzling views of the Long Island Sound. Opened in 2003, the not-for-profit community located in New Rochelle offers 126 apartments, from studios to 2 bedroom suites – 20 of which are in Willow Towers' Phoenix Memory Support Neighborhood.
The resident's happiness, care, comfort and safety are of the utmost importance at Willow Towers Assisted Living. And with so many recreational programs, shared meals and outings planned, it is a wonder that their residents have the time to see their doctor. But the convenience couldn't be easier now, with the addition of Dr. Buddha's office so that the doctor "is in."
For more information about the exceptional care at Willow Towers Assisted Living, contact Jean Dunphy, Executive Director at 914.636.6565 or visit willowtowers.com.
###