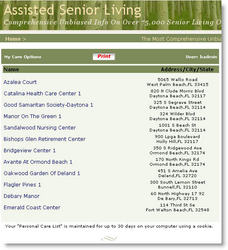 This release makes AssistedSeniorLiving.net unique in the world of senior care websites. When combined with the other ASL tools like unbiased geo-location search and the ability to search by review ratings, ASL provides an exceptional user experience
Louisville, CO (PRWEB) January 27, 2010
AssistedSeniorLiving.net announced today the formal release of a new process-based tool for tabulating lists of senior care options. As users browse AssistedSeniorLiving.net looking for assisted living facilities, nursing homes, Alzheimer's care centers, hospice care or in-home residential senior care, they can check a box on the caregiver's toolbar and the information about that option is added to a personalized list. Then, when they have found a complete set of potential care options, they can print the list for future reference. This tool makes it much easier for seniors and caregivers to compare options. The tool is designed to reduce the stress of users who are already struggling with a challenging problem, finding the best care for a loved one.
"This release makes AssistedSeniorLiving.net unique in the world of senior care websites. When combined with the other AssistedSeniorLiving tools like unbiased geo-location search and the ability to search by review ratings, AssistedSeniorLiving provides an exceptional user experience. All these process-based tools make for a user friendly environments that presents the information in a logical, unbiased and useful way."
A Process-Based Approach To Finding Senior Care
The entire site has been designed to simplify the senior care selection process. Almost every page of the site has a search bar where users can enter an address, zip or city and see a list of the 50 nearest senior care options. This list can be limited by care type and it can be sorted by distance from a base location or by review status. Users can then click on the bubble on the map and type in their current location to get instant driving directions to the facility. If they click on the name of the service, they can see detailed information including contact information, cost and (positive and negative) reviews. If users are interested in the service, they simple place a check in the box on the Caregiver's toolbar and the option is saved in a personal list for 30 days (using a cookie).
"Assisted Senior Living provides a unique service in the fact that the site does not push seniors towards the highest paying services. Users get unbiased and comprehensive information in a simple and clean format. ASL is designed to help users make the best decision about senior care."
About Assisted Senior Living
Assisted Senior Living was created in 2007 based on the owner's personal experience finding care for an aging parent. This difficult experience resulted in a site designed to put the needs of the caregivers and seniors before the desire for profits. The site helps caregiver and seniors learn about all the senior care options available in their neighborhood. Features like service reviews, geo-location search and personalized lists give users the tools they need to make the best decision. Assisted Senior Living also includes a comprehensive list of nursing homes, Alzheimer's care centers, hospice care services, independent living communities, and in-home senior care options. AssistedSeniorLiving.net is currently donating $1 to the Red Cross for Haiti relief for every senior living review created on the site.
Contact Information:
Ken Teegardin
Owner/ Operator
558 West Willow Court
Louisville, Colorado 80027
http://www.AssistedSeniorLiving.net
Phone: (303)666-1100
###