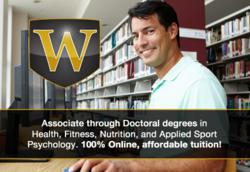 People who want to enter the fitness industry can start with the AA degree in fitness training, get a job and then continue on to higher educational levels.
Rancho Santa Margarita, CA (PRWEB) March 11, 2013
It's an educational April Fool's, without the joke: Spring classes for the associate of arts degree in Fitness Training at Wexford University begin April 1. The online university offers a variety of degree programs, including the associate of arts degree in Fitness Training, which provides education for fitness coaches and managers, personal trainers and lifestyle consultants. Students can now apply and register for spring classes at http://wexford.edu/apply/.
"Since spring is the time of fresh starts and new beginnings, it's the perfect time to pursue the education and the career of your dreams," said Jack Bauerle, Chancellor of Wexford University. "A great degree program for anyone looking to get into the fitness industry, our associate's degree in Fitness Training is flexible and convenient, meeting the demands of a busy lifestyle."
In addition, the associate of arts degree in Fitness Training is designed to prepare students for higher levels of study, such as bachelor's degree programs in health, fitness and human performance. Courses in the program include Biology, math, Language Arts, fitness coaching, anatomy and physiology, nutrition, exercise science, wellness coaching, injury prevention, fitness management, Psychology and more.
Wexford University's online fitness training degree was created to give students a fundamental knowledge of the human body and how it adapts to the stress of exercise, a broad understanding of basic nutrition and its importance to health and wellness and education regarding the psycho-social factors that affect an individual's ability to achieve health and wellness goals, which can be used in a variety of health and wellness fields.
Wexford University also offers a bachelor of science degree in Health and Fitness; master of science degree in Nutrition and Exercise; master of arts in Applied Sports Psychology; and a doctor of Applied Sports Psychology degrees.
About Wexford University
Wexford University is dedicated to providing world-class education through cutting-edge technology, offering direct application degree programs in an accelerated format with 100 percent online learning to save time and money. Programs include an associate of arts degree in Fitness Training, bachelor's degree in Health and Fitness, master's degree in Nutrition and Exercise as well as master's degree and doctorate degree in Applied Sport Psychology. Wexford University is the higher education division of NESTA (National Exercise & Sports Trainers Association). For more information, please visit http://wexford.edu/.