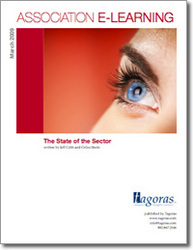 Nearly 90 percent of the organizations we surveyed said they are using e-learning to deliver education or plan to within the coming 12 months
Carrboro, NC (PRWEB) March 31, 2009
Market research and consulting firm Tagoras released a new report providing valuable information for organizations planning to launch or grow e-learning initiatives in the association sector.
Association E-learning 2009:State of the Sector draws upon survey data collected from nearly 500 associations as well as on extensive interviews to offer the most comprehensive view to date into e-learning activity by trade and professional associations - a group that includes more than 80,000 organizations.
The 103-page report provides details about:

What types of e-learning associations are offering
What tools and platforms are being used to deliver e-learning
How association e-learning is priced and marketed
How associations satisfied with e-learning differ from those that are not
How social media is impacting association e-learning
What the trends and opportunities for the future are
"Nearly 90 percent of the organizations we surveyed said they are using e-learning to deliver education or plan to within the coming 12 months," said Tagoras managing director Jeff Cobb, "E-learning has clearly established a foothold with associations, but our research suggests the period of real growth into maturity is only just beginning."
The Tagoras report points to travel budget cuts prompted by current economic conditions as one factor that will drive many associations to invest more in e-learning as an alternative to place-based educational events.
"That's an important short-term driver," said Cobb, "but there are also more fundamental, long-term factors like the growth in "green" thinking, the fact that e-learning technologies have gotten so much cheaper and easier to use, and of course, the rise of generations that are comfortable doing pretty much everything online. Associations who are not offering e-learning will need to start. Those who are will need to grow the quantity and the quality of their offerings."
For associations currently refining their e-learning strategy or developing their initial e-learning strategy, Association E-learning 2009 represents a dramatic savings over the time and expense required to conduct similar research independently. Visit the Tagoras Web site today to learn more and take advantage of special introductory pricing (until April 15, 2009) for Association E-learning 2009.
Tagoras is a market research and consulting firm focused on the design, marketing, and management of digital learning and knowledge. We provide research and advisory services to help clients to overcome lackluster e-learning adoption rates and sales, develop results-oriented customer learning communities, and integrate educational content into their marketing mix.
###