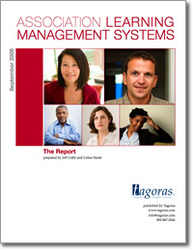 ...highly detailed information about 12 learning management systems popular in the association sector
Carrboro, NC (PRWEB) March 25, 2010 -–
Research and consulting firm Tagoras today released a new line of individual learning management system (LMS) profiles. Taken from the comprehensive Association Learning Management Systems report published by Tagoras in late 2009, the profiles offer highly detailed information about 12 learning management systems popular in the trade and professional association sector.
The companies and systems included in the Association LMS profiles are:
Avilar (WebMentor LMS)
Blackboard (Blackboard Learn)
Digitec Interactive (Knowledge Direct)
GeoLearning (GeoMaestro)
iCohere    (iCohere)
LearnSomething (Isoph Blue | LearnPro+)
Meridian KSI (Meridian Global)
Peach New Media    (Freestone)
Results Direct (EducationDirector)
WBT Systems (TopClass)
Web Courseworks    (CourseStage)
"The release of the profile series is part of our continuing effort to provide solid e-learning research and resources for the association community," said Tagoras Managing Director Jeff Cobb. "The comprehensive report we released earlier is a tremendous resource, but for organizations that may need information on only a handful of LMS options, the individual reports represent a high-quality, focused option."
Introductory pricing for the LMS profiles is $19.95 per profile. More information about the profiles as well as about the comprehensive Association Learning Management Systems report can be found in the Tagoras Association E-learning Catalog.
Tagoras provides research and consulting to help organizations sell digital learning products, create vibrant customer learning communities, and implement technologies to support these activities. Its clients include organizations like the Medical Group Management Association, the National Association of Corporate Directors, the National Institute of Governmental Purchasing, Nurses Improving Care for Healthsystem Elders (NICHE), Booke Seminars (a Division of Aon), the Center for Liberty in the Middle East, and CASTLE Worldwide.
###