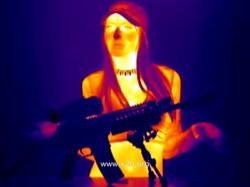 the video does a better job than I can at explaining how it works but this is a great solution
Las Vegas, NV (PRWEB) January 10, 2013
SPI Corp is a leading manufacturer / distributor of thermal scope systems used on assault rifles by US Military, Law Enforcement and Civilian agencies. They will be in booth 6615 at Shot Show 2013 in Las Vegas, Nevada. The girls of SHOT Show 2013 demonstrate their New Assault Rifle Gun Control Product on You Tube.
"With the upcoming SHOT Show 2013 we worked hard to come up with a unique marketing device that would grab everyone's attention but also be a useful solution to a common problem," explained Randall Kolchins, Director SPI CORP. "We did not want to pass out the usual wasteful pens, clips and typical swag you find at trade shows. We wanted something our customers could use." He went on to explain, "with the current debate raging around assault rifle bans and gun control the AR 15 has become a hot product so we thought how about a tip to protect your rifle and help control the elements."
An assault rifle is a military style rifle that is capable of firing rounds singly or semi-automatically as the user pulls the trigger. Due to recent events the assault rifle platform has come under fire by anti-gun lobbies. Calls for assault rifle bans and increased gun control have caused an increased demand for these weapons fueled by fear that they may soon be unavailable.
"The assault rifle barrel protector is really a cool idea," stated Darren DeSoto, Lead Technician SPI Corp. "The video does a better job than I can at explaining how it works but this is a great solution for day to day use or for extended storage." He went on to exclaim, "I'm going out to get me some of them right now."
SPI CORP has posted a video on You Tube called girls of SHOT Show 2013, detailing the new assault rifle barrel protector and how to use it. They will be handing out free samples of the AR15 Assault Rifle protection device in booth 6615 at the 2013 SHOT Show convention in Las Vegas, NV January 15-18 2013. They invite everyone to come meet the girls of Shotshow 2013 at their booth and discuss Assault Rifle Gun Control, Thermal Scopes and any other related topics.
SPI Corp is committed to making thermal scope technology available to everyone that needs it. Potential customers interested in learning more about thermal scope technology or for purchasing options, including the entire line of thermal imaging solutions offered by SPI Corp, can visit http://www.x20.org. Customers seeking immediate attention regarding these products should contact Jim Santana at 702-369-3966.
# # #