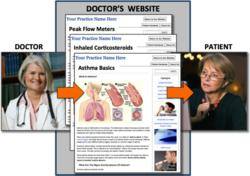 Vivacare makes it easy for physicians to offer their asthma patients with practical and up-to-date information that improves clinical care, patient satisfaction and medication adherence
Berkeley, CA (PRWEB) December 13, 2012
Vivacare, a provider of patient education services to medical professionals, now offers a collection of asthma education resources for use on doctors' websites. The new Asthma Education Kit makes it easy for medical professionals to educate their patients about asthma and deliver tools that improve asthma care.
Physicians enroll online to create a free Vivacare account that provides access to a comprehensive collection of asthma education tools, including patient handouts, videos, quizzes, and patient support tools, such as an asthma diary and medication rebates. These resources are personalized with the doctor's name at the top of the page.
By using Vivacare, physicians can easily add patient education handouts to their own websites, making their websites an in-depth resource about asthma. This provides their patients convenient access to asthma information from the source they trust most, their own doctor.
The Vivacare service is designed to meet the needs of allergists, family physicians, internists, pediatricians, and pulmonologists. Dr. Annette Fiorillo-Quinn, an allergist in Oceanside, NY uses the Vivacare service on her practice website at Long Island Allergies where she provides her patients easy access to information about asthma, such as lung function tests, inhaled corticosteroids, and an asthma action plan.
In support of physicians committed to patient education, Vivacare highlights enrolled doctors, such as Dr. Quinn, in a Doctor Directory to help reach prospective patients in their communities.
Physicians that display asthma resources on their websites can request Asthma Education Posters for use in their exam rooms. The posters include the practice website address (URL) and a QR code that direct patients to the doctor's website to learn more about asthma.
Vivacare makes it easy for physicians to control the content delivered to their patients. The Vivacare account enables doctors to add or remove patient education titles from display and quickly publish their own patient handouts online. Vivacare supports physicians who share their own medical expert opinion by highlighting their custom content on Doctor Directories.
The patient handouts provided in the Asthma Education Kit cover a wide range of topics, such as types of asthma, diagnostic tests, asthma medications and asthma management issues. The content includes links to Spanish-language resources and reputable organizations, such as the American Academy of Allergy, Asthma and Immunology (AAAAI), the American College of Allergy, Asthma and Allergy (ACAAI), and the Asthma and Allergy Foundation of American (AAFA).
"Physicians remain the most trusted source of health information, but their daily demands make it difficult to provide all the information their patients need to effectively manage their asthma", said Dr. Mark Becker, pediatrician and founder of Vivacare. "Vivacare makes it easy for physicians to offer their asthma patients with practical and up-to-date information that improves clinical care, patient satisfaction and medication adherence."
About Vivacare
Nearly 10,000 medical professionals have enrolled for Vivacare's free patient education services. Physicians praise Vivacare as a benefit for their patients and practices. A previous Vivacare physician survey showed that over 90% appreciate the patient education service. More than 95% of the respondents stated that Vivacare improves clinical care, patient satisfaction, and medication adherence.
Vivacare partners with medical organizations that support the physician-patient relationship, such professional organizations, patient advocacy groups, as pharmaceutical firms. These groups have the opportunity to promote the service to physicians and deliver educational content through the Vivacare network. For example, Vivacare has partnered with the National Rosacea Society to make rosacea education available for use on dermatologists' websites. Banner advertisements are not displayed to patients.
Vivacare is a physician-founded patient education company based in Berkeley, CA. For more information about Vivacare, visit the Vivacare website. Contact Dr. Mark Becker at (510) 848-8192, or send email to partnership (at) vivacare (dot) com.