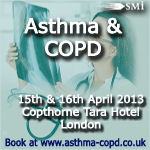 " I am happy to be involved in this important meeting that provides an update on new treatments for COPD and asthma as this is a key therapeutic area, where several new approaches are in development" Prof Peter Barnes, Imperial College London
London, UK (PRWEB UK) 9 April 2013
With the conference now around the corner, SMi Group has released a message from the Chairman of the event.
Professor Peter Barnes, Head of Respiratory Medicine at Imperial College London announced earlier this week:
"I am happy to be involved in this important meeting that provides an update on new treatments for COPD and asthma as this is a key therapeutic area, where several new approaches are in development"
Confirmed attendees include Morphosys, Astra Zeneca, Novartis, Pulmagen, Medlmmune, GSK, 3M Health Care, F. Hoffmann-La Roche Ltd, AlgiPharma, Glenmark, Fidelta, Almirall, Biomedical Systems, Aptar Pharma, Napp, Paediatric Care Centre, Teva, Imperial College, Roche plus many more...
Attendees will:

Discover new insights gained from careful characterisation of preclinical models for asthma and COPD
Establish patient phenotyping, by way of biomarkers for Asthma & COPD, for efficient and effective therapeutic outcomes
Discuss the days topics in a full panel discussion involving all our speakers on the end of each day.
Explore current and novel inhalation devices alongside combination therapies
Highlight current and novel treatments such as CCR3 antagonists and cytokine modulators/inhibitors
For further information on the conference and a free brochure visit http://www.asthma-copd.co.uk
Alternatively contact Fateja Begum on tel: +44 (0)207 827 6184 or email fbegum(at)smi-online(dot)co(dot)uk.