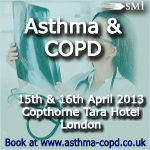 London, United Kingdom (PRWEB UK) 20 March 2013
The UK's National Institute for Health and Clinical Excellence (NICE) has recently recommended Xolair, Novartis as an option for treating severe, persistent allergic asthma in adults, adolescents and children.
The decision comes as a result of additional analyses and a move by Novartis to offer a patient access scheme to discount Xolair's list price.
An estimated 65 million people currently suffer from COPD globally with 300 million asthma sufferers. Considering that patients with COPD are often misdiagnosed with asthma due to the understated yet significant similarities between the two conditions, it is increasingly important to support respiratory research in order to phenotype patients for personalized medicine and reduce associated costs for research
Following on from this, Novartis are scheduled to present on Developing Preclinical Models to Mimic Exacerbations of COPD and Asthma at SMi's Asthma & COPD Conference this April in London.
The 9th Annual Asthma & COPD event comes at a perfect time to discuss latest developments and challenges alongside strategies to improve patient outcomes. By attending this event delegates will be able to learn the challenges and successes of peers and apply this knowledge to businesses, gaining the most efficient ways to move forward.
Joining Novartis in the Exacerbation and Patient Reported Outcomes session will be Imperial College School of Medicine, Manchester University and University of London.
To learn more about the event visit our web site or email fbegum(at)smi-online(dot)co.uk for a free brochure.
Asthma & COPD 15th & 16th April, Copthorne Tara Hotel, London.