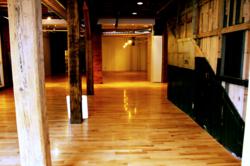 To see this part of the company vision unfold is a testament to the focus and perseverance of the ASTOUND team
Toronto, Ontario (PRWEB) March 14, 2013
New Design Studio and Fabrication Facility
ASTOUND, a global design and fabrication house, will be launching their new Design Studio in downtown Toronto, situated in the heart of the city's design community within Liberty Village. The launch strategically coincides with the company's expansion in Las Vegas, where they recently cut the ribbon on the opening of their new 60,000-square-foot state-of-the-art production facility. The Vegas facility will allow for increased fabrication capabilities and storage space, in addition to the 55,000-square-foot facility located in Oakville, Ontario.
"This is a very exciting milestone for ASTOUND, and for me personally," says Dale Morgan, President of ASTOUND. "To see this part of the company vision unfold is a testament to the focus and perseverance of the ASTOUND team."
The company is undoubtedly in the midst of a rapid expansion, witnessing sales more than double between 2011 and 2012. With forecasted sales estimated to reach double digit growth again in 2013, this company is a force to be reckoned with in the exhibit and design industry.
Team Growth and Hires
Along with the tremendous increase in clientelle and large-scale projects, the company spent most of 2012 recruiting and establishing new positions within its Oakville headquarters and Las Vegas office, achieving a 30% employee growth. A noteworthy new addition to the ASTOUND Executive Team is Liza Barnes, Vice President, Client Solutions.
Liza brings more than 14 years of senior level agency experience to the team, with a focus on developing strategic end-to-end design and custom fabrication solutions for high profile events, exhibits and environments. Having spent over 5 years leading the design, development and delivery of Auto Shows throughout Canada, Liza is a passionate and consultative business leader for large account teams within complex business environments and has delivered marketing programs for Fortune 500 clients including: Ford, Volvo, Jaguar, Land Rover and Kia.
"We are very excited to have Liza join our executive management team and expand our market reach within Canada." Says Dale Morgan. "Her vast experience and expertise is an asset to our organization and clients."
2013 will be a year of success for ASTOUND as these milestones take place and the team continues to grow. Along with a new brand refresh set to launch at the Exhibitor Show 2013 in Las Vegas, NV, the company is continuously developing new ways to innovate and remain a market leader.
ASTOUND Company Overview
ASTOUND is a global design and fabrication house, providing some of the world's best known brands with end-to-end solutions for events, exhibits, and environments. Services include: design, fabrication, interactive technology, strategy, graphic production, installation, site services, and event management. Strategically located in Toronto and Las Vegas, ASTOUND has optimum access to both the east and west coasts, while also being ideally positioned for access to an international market. With a proven track record of successfully executed projects in 25 countries and counting, ASTOUND's global alliances with manufacturing and resource facilities in Europe and Asia enable them to provide worldwide event and exhibit solutions anytime, anywhere.
More information about ASTOUND is available at: http://www.astoundgroup.com
Watch videos here: http://www.youtube.com/astoundmedia