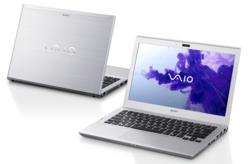 Denver, Colorado (PRWEB) March 14, 2013
Reviewers at Find My Price, a new price comparison service known for its tech reviews, released an interview for the Daily Gossip Magazine on Monday acknowledging Asus VivoBook S400 as one of the fastest ultrabook on the market. The declaration was made after various product comparisons which enabled analysts to study and test the tech specifications of commercialized notebooks.
There are several aspects that differentiate the VivoBook S400 Ultrabook from the rest of the ultrabooks on the market and the solid state drive that accompanies the hard drive is definitely one of them.
According to http://www.FindMyPrice.net the 24 GB that the ultrabook gets from the solid state drive cache in addition to the 500 GB hard space are responsible for the impressive speed that the notebook has shown during most of the tests. Although the device has been provided with the most recent operating system from Microsoft, Windows 8, the VivoBook takes less than 15 seconds to boot and only three seconds to wake from sleep.
Reviewers at Find My Price have been very impressed by the 14.10 inches display embedded on the Asus. The screen features a 1366 x 768 resolution and it was provided with the multi-touch technology, which renders Windows 8 a far more pleasant experience. The only drawback that analysts found was the fact that the screen tends to reflect images, especially in direct sunlight.
The Intel Core i5-3317U Dual Core Mobile Processor passed all the graphics tests due to its Intel HD Graphics 4000 Integrated Graphics which allowed the ultrabook to perform surprisingly well during all uses. However, the ultrabook is not compatible with 3D technology, so owners who plan to use the device for 3D gaming should orient themselves towards another laptop.
The design of the ultrabook has received fewer stars than other devices presented on the website because the external components leave the impression that they were created with cheap materials. Despite this, the black cover and the silver keyboard deck preserve the simple, yet elegant look that has been long praised by Asus' customers.
The Company concluded the interview by recommending visitors to take Asus VivoBook S400 in consideration if they are looking for a new ultrabook. The affordable price and the good performance of the device were the two factors that determined reviewers to add the VivoBook to their "Hot Deals" list.
Find My Price offers new tech reviews for the latest technological products each day. The provided information is thoroughly verified because Find My Price is interested in delivering accurate product descriptions, reviews, comparisons and market reports to its visitors.