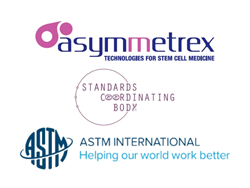 Identifying and acknowledging fundamental knowledge and technological gaps will motivate ingenuity in scientific discovery and engineering.
BOSTON (PRWEB) May 21, 2019
At their May 16 meeting, the members of the F04.43 Subcommittee on Cells and Tissue Engineered Constructs for Tissue Engineered Medical Products (TEMPs) of the American Society for Testing and Materials International voted unanimously to approve an interlaboratory study proposed by Asymmetrex. Gaining this approval was the next step in the company's plan to establish its AlphaSTEM Test™ stem cell counting technology as a standard for stem cell medicine.
ASTM International is a 121 year-old organization that was founded and exists to improve and assure the quality of diverse industry manufactured products. It accomplishes this mission by developing worldwide consensus standards for industrial testing and industrial materials. Though founded on standards for factory operations and building materials, its purview now extends well beyond to standards for products like those covered by the F04.43 Subcommittee, including TEMPs and now therapeutic tissue stem cells.
The approval for Asymmetrex is very timely for the stem cell medicine industry. One day earlier on May 15, the Standards Coordinating Body released a working draft of its new report that identifies new standards needed for regenerative medicine. The SCB is an FDA-contracted agency with the mission of complementing the existing processes of standard development organizations like ASTM by engaging regenerative medicine stakeholders to ensure that new or revised standards provide the greatest benefits to the broad regenerative medicine community. One of the needed standards introduced in the draft report is a standard for specific counting of tissue stem cells investigated in stem cell therapy clinical trials.
Asymmetrex director James Sherley observes that, "the incorporation of standards need C20 on page 51 of the new report is an excellent example of evidence that the SCB is already achieving its mission of improving progress in regenerative medicine. Identifying and acknowledging fundamental knowledge and technological gaps will motivate ingenuity in scientific discovery and engineering."
Asymmetrex, LLC is a Massachusetts life sciences company with a focus on developing technologies to advance stem cell medicine. Asymmetrex's founder and director, James L. Sherley, M.D., Ph.D. is an internationally recognized expert on the unique properties of adult tissue stem cells. The company's patent portfolio contains biotechnologies that solve the two main technical problems – production and quantification – that have stood in the way of successful commercialization of human adult tissue stem cells for regenerative medicine and drug development. In addition, the portfolio includes novel technologies for isolating cancer stem cells and producing induced pluripotent stem cells for disease research purposes. Asymmetrex markets the first technology for determination of the dose and quality of tissue stem cell preparations (the "AlphaSTEM Test™") for use in stem cell transplantation therapies and pre-clinical drug evaluations