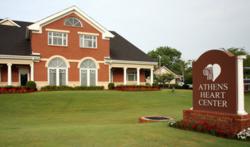 "ICANL accreditation sets us apart as a premier cardiac imaging facility that upholds that highest standards and quality in Cardiac Nuclear Imaging" Patrick Jackson, Director of Nuclear Medicine and PET at Athens Heart Center
Athens, GA (PRWEB) March 06, 2013
The Intersocietal Accreditation Committee (IAC) has recognized Athens Heart Center for having met excellent standards in Positron Emission Tomograpy (PET) and Vascular Testing in the areas of Peripheral Arterial Testing and Extracranial Cerebrovascular Testing. This makes Athens Heart Center the first outpatient PET facility in the state of Georgia to be awarded this soon mandatory ICANL accreditation. IAC Marketing Director, Tamara Sloper, said in a press release, "IAC Accreditation is a "seal of approval" that patients can rely on as an indication that the facility has been carefully critiqued in the field of Nuclear Medicine and Vascular Testing." In a press release, IAC said that Athens Heart Center had, "undergone a thorough review of its operational and technical components by a panel of experts". This same sentiment was expressed internally by the Athens Heart Center. "This accreditation just validates what the Athens Heart Center Brand is about, quality for our customers", said Dr. Subodh Agrawal, the owner of Athens Heart Center.
PET testing is the most effective method for the prevention of coronary heart disease. Coronary Heart Disease is responsible for one out of every six deaths in the United States. Vascular Testing has been proven to be one of the greatest preventative measures in the early detection of life threatening illnesses such as heart disorders and strokes. The IAC stated that Athens Heart Center has been successful in meeting all the criteria and standards that ensure this early detection.
"ICANL accreditation sets us apart as a premier cardiac imaging facility that upholds that highest standards and quality in Cardiac Nuclear Imaging", said Patrick Jackson who is the Director of Nuclear Medicine and PET at Athens Heart Center. Jackson is also the incoming president of the Georgia Society of Nuclear Medicine. Jackson in addition to Agrawal and Bhunpinder Luthra, Technical Director of the Echo/Vascular Labs at the Athens Heart Center oversee the programs that fall under this accreditation.
According to the IAC press release, patients should always ask about the accreditation of any facility they are using for tests. 'Patients should remain vigilant in making sure that their vascular testing procedures are performed within accredited facilities", said Tamara Sloper.
"We just seek to ensure the highest quality of patient care", said Luthra.
About Athens Heart Center: Athens Heart Center is the leader in cardiovascular medicine in Northeast Georgia. The staff brings years of experience and expertise in all areas of heart disease to every patient encounter. AHC's commitment is to provide the best medicine available, while keeping abreast of tomorrow's new treatments. AHC prides itself on using leading edge techniques and technology without losing sight of the importance of the hometown touch.
For more information, contact Brian J. Murray, Director of Branding and Communications Strategy, at 706. 208. 9700 or email him at Brian.Murray(at)athensheartcenter(dot)com.
###