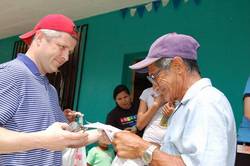 Oak Brook, IL (Vocus) January 6, 2010
AthletiCo , an Illinois-based leader in physical therapy and occupational therapy, will be holding a medical supply drive at all AthletiCo locations from January 11 to 23 to support Global Medical Brigades on a medical mission trip to Honduras. Global Medical Brigades, a sector of Global Brigades, is an international student-operated volunteer organization whose mission is to provide sustained healthcare relief to underserved communities throughout the world.
The supplies collected during the drive will be distributed to the patients and communities in Honduras on the mission trip this April. In addition, AthletiCo and its employees will also hold fundraising events to help purchase additional medical supplies and offset the volunteer costs of the trip. All AthletiCo facilities will have a drop box in their clinics to collect the needed supplies. The supply list is included below and can also be found in all facilities as well as on the AthletiCo website.
This is the third year AthletiCo and its employees have been involved with Global Medical Brigades. Last year, twenty-six AthletiCo employees and nine additional local healthcare providers traveled to Honduras and provided medical services to four rural communities treating close to 900 patients. Former AthletiCo physical therapist, Shital Chauhan, PT, DPT, is one of the founders and the chief executive officer of Global Medical Brigades, which annually has nearly 1,000 volunteers travel to Honduran communities to provide services.
List of needed medicines and supplies:
Aspirin
Tylenol
Advil in capsules- adults
Liquid Tylenol
Liquid Advil- children
Acetaminophen – adults & children
Ibuprofen – adults & children
Nasal sprays
Pepsid
Eyeglasses
Maalox etc
Claritin D
Ranitidine
Antitussives and Decongestants
Cough medicine – adults & children
Oral salts
Hydrocortisone cream
Multivitamins – adults
Multivitamins- children
Folic acid
Iron in liquid – children
Iron for Adults
Calcium
Vitamins for pregnancy
Antiseptic soap in liquid
Shampoo
Soap
Disposable Thermometer
Pencils
Pens
Plastic Bags
Paper Towels
Small envelopes for pills
Small plastic bags for liquid medicine
*no paper, please
For more information or to find an AthletiCo location nearest you, please call 630.575.6200 or visit http://www.athletico.com.
Since 1991, AthletiCo has been the proud provider of rehabilitation, fitness, and performance services to many professional teams, performing arts companies, endurance programs, golf associations, volleyball clubs, high schools, colleges, and events in Chicagoland and Central Illinois. AthletiCo's first Wisconsin location opened in Milwaukee in December 2009.
AthletiCo provides orthopedic rehabilitation including physical and occupational therapy, work rehabilitation, performing arts rehabilitation, women's health therapy, spine control, pediatric physical therapy, vestibular rehabilitation, and athletic training/sports medicine. Expanded services include performance enhancement, fitness center memberships, golf fitness, endurance, nutrition, and massage therapy.
AthletiCo accepts all indemnity, PPO, POS, and WC plans including BC/BS, Humana, Medicare, Aetna (PPO/HMO), PHCS, UHC (PPO.HMO) and many others. As a courtesy to our patients, we verify insurance coverage.
AthletiCo Toll-Free Injury Hotline 877-ATHLETICO (1-877-284-5384)
CONTACT:
Maxine Olhava, Public Relations Manager
630-575-6228
# # #