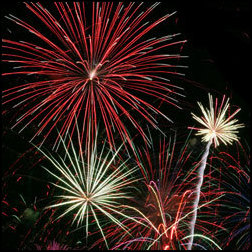 the rockets' red glare, the bombs bursting in air, [giving] proof through the night that our flag was still there
Norwalk, Conn. (PRWEB) June 5, 2007
Explosive displays are a deeply rooted tradition in the United States culture, going back much further than our national anthem, notes AP9 AtHomeRewards, a membership discount program offered by Adaptive Marketing LLC. Fireworks safety, on the other hand, is a lesson that bears repeating every year as we approach our nation's birthday on July 4.
Well before Francis Scott Key wrote in 1814 of "the rockets' red glare, the bombs bursting in air, [giving] proof through the night that our flag was still there," Philadelphia marked the one-year anniversary of our country's independence by adjourning Congress and setting off bonfires and fireworks against a backdrop of ringing bells. It is, in fact, that 1777 celebration, rather than "The Star-Spangled Banner" (which didn't become the official national anthem of the U.S. until March 3, 1931), that began the American tradition of celebrating the Fourth of July with fireworks, parades, picnics, speeches and other community events, notes AP9 At Home Rewards.
There's no word on whether fireworks safety was a common element in the speeches given way back when, but AP9 AtHomeRewards wants to help ensure that the following commonsense steps remain a standard part of our present-day celebrations:
-- Obey the law. State and local laws governing the use of fireworks can vary wildly. Many states place restrictions on certain kinds of fireworks, and some states ban them altogether. Make sure you know the laws in your area before putting a flame to a fuse.
-- Fireworks are not child's play. Fireworks are, quite literally, explosive materials, which obviously should never be placed in a child's hand. Rationalizations like "he has to learn sometime" pale in comparison to the potential loss of a finger, a hand, eyesight or worse. While age restrictions on purchasing fireworks vary from state to state, a good rule of thumb is not to let children use fireworks until they're old enough to drive.
-- Instructions are our friends. Many accidents with fireworks could be avoided if users followed the ignition instructions on labels. The labels often include commonsense tips -- don't lean over fireworks when lighting them; don't point them at people or flammable objects; don't light them indoors or in a container -- along with any special precautions that should be taken for specific fireworks.
-- Douse and discard duds. Fireworks that haven't detonated -- yet -- can be as dangerous as those that have. Take care around duds: Soak them in water, ideally from the safe distance offered by a hose, before picking them up and throwing them away.
-- Plan for the worst. Always keep a fire extinguisher and a first-aid kit nearby when setting off fireworks, suggests AP9 AtHomeRewards. If all goes well, they won't be needed, but it's always better to have them and not need them than to need them and not have them.
-- Store with care. Unused fireworks should be stored in a cool, dry area, completely out of reach from children, any and all sources of heat and any other potentially flammable materials.
No Fourth of July celebration would be complete without picnics, parades and fireworks -- not to mention a dose or two of safety measures, reports AP9 AtHomeRewards.
About AP9 At Home Rewards
AP9 AtHomeRewards is a leading membership discount program offered by Adaptive Marketing LLC. Headquartered in Norwalk, Conn., Adaptive Marketing is a category leader in membership programs, bringing value direct to consumers through an array of benefits in healthcare, discounts, security, personal property and personals. Members may access their benefits at AtHome-Rewards.com. With broad online and offline distribution capabilities, Adaptive Marketing offers its corporate client partners effective tools to enhance market presence, strengthen customer affinity and generate additional value through programs such as AP9 At Home Rewards.
###