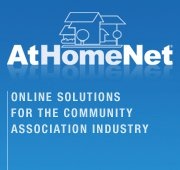 "We are excited about the experience and energy David will bring to our team. We expect our clientele and services growth to continue, and he will play a major role in this effort."
Suwanee, GA (PRWEB) April 30, 2012
AtHomeNet, Inc., a provider of web-based services for community associations and association management firms, welcomes David Hosie as their new Director of Sales. Hosie will take up his duties on May 1, 2012.
AtHomeNet CEO, Susan Sanders, is delighted by Hosie's acceptance of the post of Director of Sales. "We are excited about the experience and energy David will bring to our team. We expect our clientele and services growth to continue, and he will play a major role in this effort."
Hosie heralds from Long Island University, and developed a firm foundation in the technology and imaging industry. He comes to AtHomeNet with 20+ years of professional sales management experience.
"I have known Susan and Jeff for many years, and am thrilled to be working as a part of the AtHomeNet team," says Hosie. "They have experienced rapid growth as a company in the past few years, and I look forward to be a part of their continuing progression."
AtHomeNet® is the nation's leading provider of web-based services for communities and association management firms. Established in 1998 by Jeff and Susan Sanders, their HOA websites are now being used in over 2 million homes across 6 countries. AtHomeNet continues to grow as a company and enhance their services in the ever expanding world of online technology.
For more information on AtHomeNet please visit http://www.AtHomeNet.com or contact Lauren Briscoe at LaurenB(at)AtHomeNet(dot)com or call 1-800-556-7852.