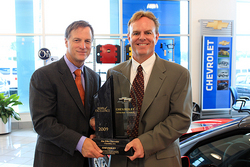 Jim Ellis Chevrolet is clearly one of the best of the best and we're proud to have them on the Chevy team in the Southeast
Atlanta, GA (PRWEB) October 11, 2010
There are over 3,000 Chevrolet dealers nationwide. The Mark of Excellence award is only presented to the top 7 percent of dealers.
Those 200 dealers stand apart from their peers by exceeding sales targets, achieving consistently high levels of customer reported satisfaction, and attaining technical training from General Motors.
For 2009, only four dealers in the southeast will receive such a trophy from the Chevrolet Zone Manager for GM, Glenn Mohr, and Jim Ellis Chevrolet is proud to be one of them. "Jim Ellis Chevrolet is clearly one of the best of the best and we're proud to have them on the Chevy team in the Southeast," remarked Mohr.
"Jim Ellis Chevrolet continues to excel in the Jim Ellis 'expect the best' philosophy and the trophy is a testament to achieving that goal," added Jimmy Ellis, Vice President and Chief Operating Officer of the Jim Ellis Automotive Group.
This is the third time that Jim Ellis Chevrolet has won the Mark of Excellence award, in addition to a trophy case of other accolades. "I'm very proud of my team," said Mark Frost, General Manager of Jim Ellis Chevrolet. "Their hard work and dedication to an outstanding customer experience are what set Jim Ellis apart from the competition."
About Jim Ellis Chevrolet: Jim Ellis Chevrolet is an award-winning Atlanta area Chevrolet dealership carries everything from the best-selling Chevy Malibu to work trucks like the Silverado. Mr. Goodwrench service specialists are available for all GM cars and trucks, including Pontiac and Saturn. To learn more please visit the Jim Ellis Chevrolet website.
About Jim Ellis Automotive Dealerships: The Jim Ellis Auto Dealerships are a family-owned and operated business with dealerships located in Atlanta, Buford and Marietta, Georgia. The Jim Ellis dealerships sell new cars from Audi, Chevrolet, Buick, GMC, Hyundai, Mazda, Mitsubishi, Porsche, Saab, Wheego Electric Vehicles and Volkswagen, as well as a wide selection of used cars. To learn more, or to browse a complete inventory online, please visit the Jim Ellis family website.
###