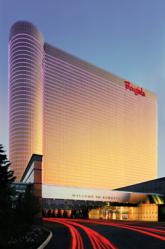 Atlantic City, NJ (PRWEB) March 19, 2013
BRAVO's leading man Andy Cohen, will be offering his fans a one-of-a-kind glimpse into his reality television empire on Saturday, April 6th, at 2 p.m. at Borgata's Music Box theater. The Watch What Happens Live host and author of the memoir, Most Talkative: Stories From The Front Lines of Pop Culture, will engage audience members in an intimate conversation moderated by The Real Housewives of New York star, Heather Thomson, discussing his life-long love affair with celebrity and pop culture, while sharing tales from his storied career. Following the Music Box event, Cohen will host a book signing at 3:30 p.m. at 28 West, where copies of "Most Talkative" will be available for purchase.
As the beloved host and executive producer of the late-night talk-show, Watch What Happens Live, Cohen will give fans the inside scoop on his journey to the top, sharing stories of network-news mishaps and hilarious encounters with his pop culture idols, while taking questions from the audience. Cohen, whose office "day-job" includes serving as BRAVO's executive vice president of original programming and development, is responsible for producing some of cable's most popular and successful reality hits, including The Real Housewives and Top Chef franchises, among others.
"Borgata has hosted several BRAVO productions, including some of our highest rated and most buzzed about Real Housewives reunion specials," explains Cohen. "I'm thrilled to bring my Most Talkative stories there on April 6th to create some new memories of my own!"
Tickets for the event, "Most Talkative: Andy Cohen – A Conversation with Bravo's Leading Man," are priced at $20 per person and are on sale now via http://www.theborgata.com or by calling 1.866.900.4TIX. There are a limited number of premium seating tickets available for $35, which includes a copy of Cohen's memoir. The book signing event will be hosted from 3:30 p.m. to 5:30 p.m. at 28 West Bar & Bites (adjacent to The Music Box and Bobby Flay Steak) and is open to the public. Copies of Most Talkative will be available for purchase.
About Borgata Hotel Casino & Spa
Located at Renaissance Pointe in Atlantic City, Borgata Hotel Casino & Spa features 2,000 guest rooms and suites; 161,000 square feet of gaming; 182 gaming tables; 3,475 slot machines; an 85-table poker room; 11 retail boutiques; 5 acclaimed fine dining restaurants by renowned chefs; 6 casual dining options; a 54,000 square foot spa; 70,000 square feet of event space; 4 signature nightlife experiences; and parking for 7,100 cars. The resort also features Atlantic City's first cosmopolitan hotel experience, The Water Club at Borgata, with 800 guest rooms and suites; a 36,000 square foot spa; 18,000 square feet of meeting space; 6 designer retail boutiques; and 5 heated indoor and outdoor pools.
For more information on Borgata or to obtain a copy of this press release, please visit http://www.theborgata.com or follow Borgata on twitter.com/BorgataAC.
For more information on Borgata Hotel Casino & Spa, please contact Liza Costandino at lc12912(at)theborgata(dot)com or 609-317-7759.