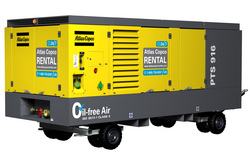 From initial enquiry through to the task completion it is our aim to always put the needs of our rental customers first.
(PRWeb UK) October 28, 2010
Atlas Copco, one of the world leaders in the design, development and manufacturing of compressors and generators, has announced it has completed the rebranding of its Specialty Rental Division. Formed in 2007, Specialty Rental offers, next to its rental activities in the customer centers, compressed air and power solutions via six rental companies. Formerly independent, these six companies had been acquired by Atlas Copco in line with its target to offer unrivalled customer service and aiming for service excellences.
In a two step process, starting in 2008, the independent rental companies were re-named to emphasize their link with Atlas Copco. For example, Prime Energy in the USA became Atlas Copco Prime Energy and Kolfor in the UK and was re-branded as Atlas Copco Kolfor. These changes in name marked comprehensive restructuring within each company, with the adoption of common working practices.
This initial phase in re-branding also ramped up the interaction between each of the rental companies, pooling equipment resources and specialist expertise. This process enabled Atlas Copco Specialty Rental to offer expertise and extended equipment choice to customers.
The second and final phase of rebranding is due to be completed by the end of 2010. This will see the existing six rental companies homogenize into one and adopt the single name of Atlas Copco Rental. This change reflects the work done to ensure the same levels of know-how are available to all markets, with the full global support of the Atlas Copco Customer Centres.
Atlas Copco Rental will operate under common environmental, health and safety and operational procedures that will meet the most stringent standards currently applicable. "Re-branding our former independent rental companies into Atlas Copco Rental has been a strategic process," says Gathuru Mburu, Vice President Specialty Rental Division. "Our key aim is to offer the best possible service, 24/7. From initial enquiry through to the task completion it is our aim to always put the needs of our rental customers first. We strive to remain First in Mind - First in Choice®." Learn more on http://www.atlascopcorental.com
Specialty Rental is a division within Atlas Copco's Compressor Technique business area. It serves customers in the industry and oil and gas segments around the world with temporary air and power rental solutions. The specialty rental services are offered under several brands. The divisional headquarters is located in Antwerp, Belgium.
Atlas Copco is an industrial group with world-leading positions in compressors, construction and mining equipment, power tools and assembly systems. The Group delivers sustainable solutions for increased customer productivity through innovative products and services. Founded 1873, the company is based in Stockholm, Sweden, and has a global reach spanning more than 170 countries. In 2009, Atlas Copco had about 30,000 employees and revenues of BSEK 64 (BEUR 6.0). Learn more at http://www.atlascopco.com.
###