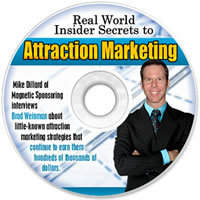 In attraction marketing, instead of getting hit with rejection and no-thank-you's all day, you only spend your time talking to people who know you, are already sold on your product or service, and want to buy now or join your opportunity. Compared to the traditional way of prospecting and selling, attraction marketing is much more fun and enjoyable
Los Angeles, CA (PRWEB) September 10, 2007
After years of dealing with rejection and cold-market prospecting for his home business, the light went on for Brad Weinman.
"I'd spent hours on the phone, held meetings, licked envelopes, sent emails, and nothing worked. Then one day it suddenly hit me, instead of pushing my products and business opportunity to people who weren't really interested, I would find a way to attract those customers to me instead," Weinman said.
The remarkable insights that followed are the subject of Brad Weinman's new ebook "The Attraction Marketing Blueprint -- Step-By-Step Instructions On How To Brand Yourself So You Can Attract Endless Streams Of New Prospects And Distributors To You, Even If You're Just A Beginner!" The book is available for immediate download at http://www.attraction-marketing-blueprint.com
"In attraction marketing, instead of getting hit with rejection and no-thank-you's all day, you only spend your time talking to people who know you, are already sold on your product or service, and want to buy now or join your opportunity. Compared to the traditional way of prospecting and selling, attraction marketing is much more fun and enjoyable," Weinman said.
Network Marketers using attraction marketing are experiencing rejection-free prospecting, better sales, faster growth, and a much higher level of satisfaction in growing their business.
Experts credit the generally high failure rate of small businesses in America to the debilitating frustration of establishing a client base. "The old numbers method of selling to as many people as you can, simply wears you out without producing much in the way of results," Weinman said, noting his book is a step forward in making network marketers
aware of this new shift in business building strategies.
"The Attraction Marketing Blueprint" is filled with creative and proven techniques for building a large pool of already-sold prospects and customers. Methods range from off-line strategies to the most innovative online ideas. Early release of the book has brought a torrent of letters and emails from entrepreneurs putting the ideas into action and reaping immediate rewards.
"Now we're making the ebook available to a much wider audience of home based entrepreneurs, and networkers," Weinman said.
Contact: Brad Weinman
818-342-9984
http://www.AttractionMarketingMentor.com
http://www.WealthGenerationSystems.com
###