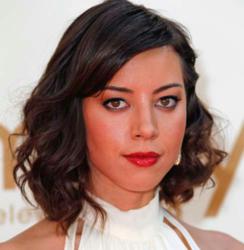 Sarasota, FL (PRWEB) March 14, 2013
Ringling College of Art and Design today announced that actress Aubrey Plaza will work with students and meet supporters of the College's Digital Filmmaking Studio Lab on Friday and Saturday, March 22nd and 23rd. Aubrey recently starred in Colin Trevorrow's critically acclaimed feature, 'Safety Not Guaranteed,' for which Aubrey won the 2012 ALMA Award for 'Favorite Movie Actress – Comedy/Musical.'
In a 2012 interview with Wall Street Journal reporter Mickey Rapkin, Ms. Plaza spoke about 'Safety Not Guaranteed,' stating that "A lot of independent films offer a harsh reality check. But this one feels almost like movies used to feel in the '80s—movies like 'Back to the Future' and 'Goonies.' It's sort of magical."
"We are great admirers of Aubrey's work and know that her visit will provide the students insight and inspiration," said David Shapiro, Future of Films cofounder and co-producer of Ringling College's Digital Filmmaking Studio Lab. "The Film Lab has brought in a very diverse group of artists this year and we continue our collaboration with our past guests. We are proud to be a part of creating a unique curriculum and raising the visibility of Sarasota and Ringling within the entertainment industry."
Aubrey also stars in the Emmy-nominated television series 'Parks and Recreation' as April Ludgate, currently in its fifth season on NBC. Aubrey will next star as the lead character in Maggie Carey's film 'The To Do List' as a high-school graduate who makes it her mission to gain more sexual experience before heading off to college. The film will be released by CBS Films on August, 16 2013 and co-stars Bill Hader, Andy Samberg and Rachel Bilson. Aubrey recently wrapped production on Justin Reardon's "A Many Splintered Thing" opposite Chris Evans, Giovanni Ribisi, Anthony Mackie, Luke Wilson and Michelle Monaghan. She also voices a character in Dan Scanlon's animated feature, "Monsters University" which will be released by Walt Disney Studios Motion Pictures on June 21, 2013.
The Ringling College Digital Filmmaking Studio Lab has brought many Hollywood luminaries to Sarasota to work directly with Ringling Digital Film students over the past three seasons. The 2013 season has featured Sam Rockwell and Andie MacDowell to date and 2012 featured Elijah Wood, Forest Whitaker, Edward Burns, James Woods and Whit Stillman. During the 2012 season Ringling students also worked on feature film productions including Anna Paquin's film "Free Ride" and "Spring Breakers" directed by Harmony Korine and starring Selena Gomez. Master classes prior to 2012 have featured Werner Herzog, Bill Paxton, Martha Stewart, Andy Garcia, Paul Schiff, Oren Moverman, Ben Foster, Ed Carrol and others.
Combined with the strength of Ringling College's Digital Film Program, students are not only learning the art and mechanics of visual storytelling but they are also getting guidance and encouragement from leaders in the entertainment industry as part of their core curriculum.
Aubrey's other film credits include recently starring in Roman Coppola's 'A Glimpse Inside the Mind of Charlie Swan III,' Jamie Linden's 'Ten Year' opposite Channing Tatum, Whit Stillman's 'Damsels in Distress' opposite Greta Gerwig and Adam Brody, Edgar Wright's action-comedy 'Scott Pilgrim vs. The World' opposite Michael Cera, Jason Schwartzman and Chris Evans, Judd Apatow's 'Funny People' opposite Adam Sandler, Leslie Mann, and Seth Rogen; and Dan Eckman's 'Mystery Team' opposite Donald Glover.
Additional credits include the hit online series "The Jeannie Tate Show," ESPN's original web series "Mayne Street," as well as guest appearances on "30 Rock" and "Portlandia." Aubrey has been performing improv and sketch comedy at the Upright Citizens Brigade Theater since 2004. She also recently began performing stand up and has appeared at the Laugh Factory and The Improv. Originally from Wilmington, Delaware, Aubrey is a graduate of New York University's Tisch School of the Arts.
About Ringling College of Art and Design
Ringling College of Art and Design is a private, not-for-profit, fully accredited college offering the Bachelors of Fine Arts degree in 13 disciplines: Advertising Design, Computer Animation, Digital Film-making, Fine Arts, Game Art & Design, Graphic Design, Illustration, Interior Design, Motion Design, Painting, Photography & Digital Imaging, Printmaking, and Sculpture, and a Bachelor of Arts degree in the Business of Art & Design. Located in Sarasota on Florida's Gulf Coast, the picturesque 48-acre campus now includes more than 110 buildings, and enrolls 1,368 students from 44 states and 53 countries. It is recognized as being among the best and most innovative visual arts colleges in the United States as well as a leader in the use of technology in the arts. http://www.Ringling.edu