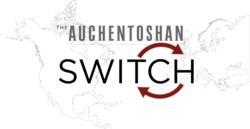 We decided to bring Auchentoshan Switch back bigger and better this year, opening it up to bartenders in more countries
Glasgow, Scotland (PRWEB) March 21, 2013
It's North America vs. Europe in this second AUCHENTOSHAN SWITCH, a bartender talent search presented by Auchentoshan® Lowland Single Malt Scotch Whisky, Scotland's only triple-distilled single malt whisky. The Auchentoshan Switch is a trans-continental bartender swap like no other that will name two outstanding barkeeps as winners who will literally "switch" continents for two weeks to work in the top bars in the world – one bar in London and one in New York City.
The host bar in London where the US bartender winner will switch to is acclaimed NightJar, recently voted one of the Best Bars in the World by Drinks International. Open to all licensed bartenders in the US and Canada on this side of the pond, and in the UK, Germany and Sweden on the other, Auchentoshan Switch spans the globe to create the opportunity of a lifetime for two talented bartenders.
HOW THE AUCHENTOSHAN SWITCH WORKS
INITIAL ENTRY. To enter, bartenders are asked to create their best Auchentoshan Three Wood cocktail and upload the recipe and an image of their creation at http://www.Auchentoshan.com/Switch. Online entries will be accepted from March 2013 until July 12, 2013. New for this Switch is the chance for the general public to vote for their favorite bartender/Auchentoshan Three Wood cocktail on the Auchentoshan Switch site.
REGIONAL HEATS. Once the official entry period ends on July 12, 2013, a panel of judges will vote to name the semi-finalists. These successful candidates will then be invited to attend regional heats taking place July through September 2013, within their respective countries, where multiple finalists will be named. In the US, the regional heats and the Grand Final will be hosted by Liquor.com, the leading expert-driven digital media platform focused on cocktails, spirits and all things related to cocktail culture.
GRAND FINALS. The finalists from each of the regional heats will then battle it out in the European and North American Grand Finals to be held in November 2013 – one final held in London and one held in the US.
THE ACTUAL SWITCH. Auchentoshan has partnered with outstanding bars in each country to act as the host venues for the final two bartenders. The actual Switch for the winning bartenders will take place in 2014 when the winning North American bartender will spend two weeks at the famed London bar NightJar, while the winning European barkeep will get to spend his or her two weeks at a well known bar in New York City (to be determined). The winners will undertake shiftwork, learning the bars' signature drinks and house techniques and much more. And yes, there will also be some time for sightseeing as well.
"Our initial Auchentoshan Switch was very well-received and drew a huge number of entries – and fabulously creative cocktails – from bartenders on both sides of the pond," says Jennifer Meenan, brand manager for Auchentoshan. "We decided to bring Auchentoshan Switch back bigger and better this year, opening it up to bartenders in more countries and hosting regional heats. We're excited to see this year's entries and proud to bring this once in a lifetime experience to our supportive bartending community once again."
Winners of the inaugural Auchentoshan Switch in 2011 were Charles Joly from Chicago, IL and Martin Ball from Manchester UK. In 2012, Joly 'switched' to UK host bar 69 Colebrooke Row in London and Ball 'switched' to US host bar Apotheke in New York City.
Award winning Auchentoshan Three Wood is the chosen expression for all Auchentoshan Switch entries as its complex flavors add tremendous dimension to whisky cocktails. As with all Auchentoshan whisky, Three Wood is triple distilled, which produces an immensely smooth spirit. It is matured in three different types of casks – first in North American Bourbon casks, then in Spanish Oloroso Sherry casks and finally in Pedro Ximenez Sherry casks, a wood famed for drama and darkness. This triple cask maturation produces a rich whisky with deep toffee and sherry oak influences, a touch of hazelnut with hints of cinnamon and lemon and a butterscotch sweetness that adds to the overall complexity. It is produced at the Auchentoshan Distillery which was established in 1823 and has produced triple-distilled whisky since this time. It is located in the Lowland region of Scotland, on the outskirts of Glasgow and is the city's only distillery. Its name, pronounced "ock-un-tosh-un", means "corner of the field" which is evident to visitors as the distillery sits near farmland on the banks of the River Clyde, in the shadow of the Old Kilpatrick hills between Glasgow and Loch Lomond.
For more information, and to enter Auchentoshan Switch, please visit http://www.auchentoshan.com/switch
May the cocktail making begin!
#switch
ABOUT AUCHENTOSHAN SINGLE MALT SCOTCH WHISKY
The award winning Auchentoshan portfolio includes Auchentoshan Classic, 12 Year Old, Three Wood, 18 Year Old and the limited release 21 Year Old, in addition to select vintage, limited edition releases. Auchentoshan is available nationwide in the U.S and in more than 45 countries worldwide. The Auchentoshan portfolio is imported to the U.S. by Campari America. For more information please visit http://www.auchentoshan.com. Join the Auchentoshan conversation on Facebook.
ABOUT CAMPARI AMERICA
Campari America is a wholly owned subsidiary of Davide Campari-Milano S.p.A. (Reuters CPRI.MI - Bloomberg CPR IM). At the heart of Campari America are two legends in the American spirits industry. The first, Skyy Spirits, was founded in San Francisco back in 1992 by the entrepreneur who invented iconic SKYY Vodka. The second is the world-famous Wild Turkey Distillery in Lawrenceburg, Kentucky, where they have been making the world's finest whiskies since the 1800's. Both companies were purchased by Davide Campari-Milano and together they form Campari America, which has built a portfolio unrivaled in its quality, innovation and style, making it a top choice among distributors, retailers and consumers. Campari America manages Gruppo Campari's portfolio in the US with such leading brands as SKYY® Vodka, SKYY Infusions®, Campari®, Wild Turkey® Straight Kentucky Bourbon, American Honey®, Russell's Reserve®, Glen Grant® Single Malt Scotch Whisky, Cabo Wabo® Tequila, Espolón® Tequila, Ouzo 12®, X-Rated® Fusion Liqueur®, Frangelico®, Cynar®, Carolans Irish Cream®, Irish Mist® Liqueur, Sagatiba® Cachaça and Jean-Marc XO Vodka®. Campari America is also the exclusive US distributor of Bowmore® Islay Single Malt Scotch Whisky, Auchentoshan® Lowland Single Malt Scotch Whisky, Glen Garioch® Highland Single Malt Scotch Whisky, McClelland's® Single Malt Scotch Whisky, Flor de Caña® Rum, Midori® Melon Liqueur, Hibiki® Whisky, Hakushu® Single Malt Whisky, and The Yamazaki® Single Malt Whisky. Campari America is headquartered in San Francisco, California. More information on the company can be found at http://www.campariamerica.com, http://www.facebook.com/campariamerica, Twitter: @CampariAmerica and http://www.camparigroup.com. Please enjoy Campari America brands responsibly and in moderation.
ABOUT LIQUOR.COM
Liquor.com was founded in 2009 with the mission to bring the industry's leading experts, new media and technology to educate, inspire and enable the world to drink better, smarter and with greater appreciation. In addition to content and technology focused on a variety of cocktails- and spirits-related consumer needs, the platform offers local guides for New York, San Francisco, Los Angeles and Chicago, as well as hosts spirited events around the country. The site is edited by celebrated spirits author Noah Rothbaum and boasts an Advisory Board consisting of a dozen of the world's foremost bartenders and drinks experts including Dale DeGroff, David Wondrich, Jim Meehan and more. Recent achievements include surpassing 325,000 fans on Facebook and winning the 2012 Tales of the Cocktail Spirited Awards for Best Cocktail Writing and Best Cocktail Author. Liquor.com's content reaches over 5 million consumers and top bartenders each month across its various owned and operated and partner channels.