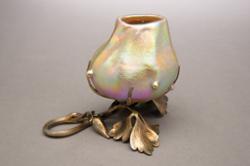 Alameda, CA (PRWEB) March 15, 2013
Michaan's Auctions is looking for collectors, but not just any collector. They are looking for collectors of especially exquisite, coveted property. Michaan's is actively seeking quality consignments for the upcoming fine sale season of June 2013. Fine auction property is considered to be high-end, top tier items for the discriminating buyer. Whether it is fine art, period furniture and decorations, jewelry or Asian works of art, Michaan's is looking to find the best of the best. Their experts have provided the following insights as to the types of pieces they are seeking in order to present exceptional auctions to the bidding public.
Fine Art Department Director Thomas De Doncker:
"I see Michaan's biannual fine sales as an excellent opportunity to present a range of masterworks and vintage photography to the educated collector. I aim to fill these auctions with a range of categories that embody a rich representation of genres, themes and mediums. In general, I look for exceptional examples of American and European artworks from acclaimed artists from the 1500s to the present day. Specifically, popular categories at auction are found in vintage California landscape and pleine air painters. Quality Old Master and turn of the century prints are also worthy finds at auction. Blue-chip 20th century contemporary works on paper by both domestic and international artists are yet another collectible, strong bidder draw. Also, local buyers in particular seem to find great interest in offerings of Bay Area regionalist artists."
Mr. De Doncker can be reached at (510) 740-0220 ext. 140.
Jewelry Department Director Rhonda Harness:
"Fine sales are the time when we can present the best property we have to our clients. I look for unusual and antique pieces in good condition from all time periods, from contemporary to Georgian, Victorian, Art Deco and Art Nouveau. The market for fine diamonds is on fire and at auction they are commanding premium prices. High demand is also seen for the entire spectrum of colored gems. Bidders also find great interest in unique gold pieces and if it comes from a prominent artisan, even better. For instance, gold jewelry from David Webb and Tiffany & Co. are great names that buyers find confidence in. Signed designer pieces from artisans such as Jean Vendome and Georg Jensen, novelty items in the form of animals and bugs, fine Mexican silver and gentleman's watches and accessories from makers such as Patek Philippe and Rolex are all strong collector items I would like to see in a fine sale. It is also hard to go wrong with quality platinum jewelry; it seems to stand the test of time."
Ms. Harness can be reached at (510) 740-0220 ext. 125.
Asian Art Specialist Harry Huang:
"When I think fine sale, I think of top performers at auction that will please my most discerning clients. Pristine celadon and white jade carvings in numerous forms are usually a sure-fire bet. Chinese paintings remain a rising star in the Asian artworks market. Fine classical Chinese paintings from acclaimed artists such as Ou Haonian and Pu Ru remain strongly optimistic with today's buyer and beyond. Asian furniture is another worthwhile category at auction. Pieces of larger stature with fine craftsmanship made from materials such as huanghuali are a welcome find for my department. In my personal experience at auction, museum quality cloisonné pieces have also been excellent performers. In our last fine sale this was evidenced in a Qianlong period bell, tripod censer and decorative box bearing vibrant cloisonné workmanship."
Mr. Huang can be reached at (510) 227-2535.
Furniture & Decorations Specialist Elizabeth Dalton:
"A great thing about the Furniture and Decorative Arts Department is that we are driven by fresh, exceptional estate property. Outstanding antique silver has consistently proved to be one of our strongest categories, evidenced in offerings of Modernist and Tiffany & Co. pieces as well as in Chinese and Japanese export silver such as Arthur Bond. European and American period furniture and fine clocks are quite popular with our bidders from around the world too. Substantial, ornate, period French furniture of quality is an impressive contender at auction. Large European china service does great numbers, including Meissen and Royal Copenhagen, especially in the Flora Danica pattern. Specialty decorative pieces are wanted as well. From fine Obesan tapestries to Russian icons to American folk items, I want to please many different collectors on the highest level possible."
Ms. Dalton can be reached at (510) 740-0220 ext. 127.
Information regarding Michaan's Auctions fine sales will be posted on the web at: http://www.michaans.com. Michaan's Auctions is located at 2751 Todd Street, Alameda, CA 94501.
About the company:
Michaan's Auctions is a leading full service auction house on the West Coast with one of the largest facilities in Northern California. Specializing in antique appraisal s and sale of fine art, Michaans has specialists in the fields of Furniture and Decorative Arts, Modern, Contemporary Art, European and American Paintings and Prints, Jewelry, Asian Works of Art and Ethnographic Art. Established in 2002, Michaan's Auctions holds up to thirty sales each year attracting a broad base of buyers and consignors from all over the world. Michaan's offers buyers and sellers the opportunity to preview and bid on many unique and desirable properties. Michaan's holds art auctions, estate auctions, offers free art appraisal, and sells antiques. For more information, please visit their website.