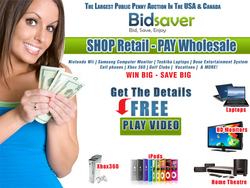 They really are leading the way in North America for Penny Auctions
Tampa, Florida (PRWEB) May 1, 2009
Upstart website Bidsaver.com is continuing to live up to its reputation as the best place on the internet for US and Canadian Shoppers to purchase items at wholesale prices.
According to Maurice Evans, Business Coach with aBusinessCoach.com, the site is one-of-a-kind. "They really are leading the way in North America for Penny Auctions," stated Evans, "no one else is shipping new items to the mainland states and Canada the way they are. And because the site is so new, its unbelievable how many people are walking away with deals at 50 or 60, or even 70% off retail pricing. This stuff is all brand-new, in the box, with manufacturer's warranty. You just can't beat that anywhere. If anyone is looking to save money, they need to get onto this website right away."
Bidsaver's website uses the penny auction method to sell brand new retail goods at wholesale prices. Members of the site compete for various items by bidding against each other. The highest bidder wins the item at the price stated, plus shipping.
Jewelry, Watches, Big Screen Televisions, Golf Clubs, Computer Monitors, DVDs and Gaming Systems, Gift Certificates, Travel etc. are just a few of the typical items available at the auction. Many of the items are featured on Internet retail site Amazon.com and come from the same manufacturer's listed there.
Most auction winners can expect to see a savings of around 50-60% or more off of the item's suggested retail price.
An example is recent winner, Gary White, of Arizona. Gary won a 32-inch High Definition Computer Monitor for only $25. The retail price of the Samsung monitor he won is $799. "I only bid on it 13 times", says Gary, "…I bought it for my son, I just (recently) bought me a 52-inch (version for myself), this one is for him…I really like this site, I told quite a few people about it, I highly recommend it, I will definitely be bidding again (on other items)."
In order to bid, users must first be a registered member and purchase bid packs. Bid packs come with multiple units that are used one at a time to bid on items. Registration to the site is free, and bid packs start at around $10. You can register free on the site at beta.bidsaver.com. The site also runs frequent contests and prize giveaways. It is not necessary to make a purchase to view auctions or win prizes.
About Bidsaver.com
Bidsaver.com is a consumer shopping website designed for the person who is looking for top-quality, brand new items at bargain prices. Bidsaver.com uses the penny-auction method to allow members to bid on various products and services. Items are listed at wholesale prices. During the auction process, any member with the highest bid wins the item.
About Maurice Evans
Maurice Evans, aka "Mr. iGROWyourBiz" is founder of aBusinessCoach.com and Networking City. He is an author, dynamic public speaker and effective Guerrilla-Style Marketing Coach. His firm focuses on helping individuals start their own business, or grow an existing business through proven methods, systems, and technologies. Maurice hosts various video, audio and live series via seminars, telephone and the web. Each series or bootcamp is designed to empower entrepreneurs to take their business to the next level.
# # #