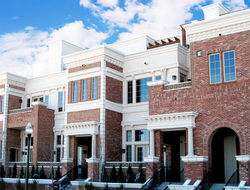 Newport Beach, Calif. (PRWEB) February 25, 2009
As the bid deadline of March 5 approaches, the excitement of homebuyers heats up as they position themselves for the chance to own a brand new luxury home at a fraction of its original asking price.
The builder closeout auction on the Freedom Realty Exchange (http://www.FRE.com/284R8) of high-end properties in the master-planned community of Stapleton and the charming town of Golden, Colorado, has brought scores of visitors, all with the hope of purchasing the home of their dreams for a price they determine.
As an effective and realistic means to sell homes in a depressed market such as Denver, FRE.com's online auction allows buyers the opportunity to flex their buying power. The properties, four boutique townhomes, four large estate homes and one ranch-style home, are the last remaining inventory of a well-respected local developer who must quickly sell the homes as evident by the opening bids which are at least 50% below previous listing price. Buyers in this auction have an opportunity to walk away with a piece of Denver luxury real estate at a steal.
The homes are located within 25 minutes of Denver's city center, close enough for residents to enjoy both the excitement of the city and the relaxation of suburban living. The Denver Brownstones are multilevel homes located in the emerging community of Stapleton, offering over 3,300 sq. ft. of living space, and luxurious amenities such as a rec room, private elevator, and gourmet kitchen.
Also located in Stapleton and to be sold by auction are three Urban Estates homes. The grand homes, all over 4,000 sq. ft., feature 4-5 bedrooms, rich wood floors, a gourmet kitchen, guest quarters, and spectacular views.
The final property, a ranch-style custom home in Golden, features a sprawling floor plan and impressive exterior stone and wood detailing. Situated on a lush piece of Colorado landscape with views of the surrounding mountains, this home has 4,147 sq. ft. of living space that includes four bedrooms, an exercise room, and study.
The bid deadline for this auction is March 5, 2009. This is not a foreclosure auction. These are brand new homes with a builder warranty. Interested buyers are strongly encouraged to register on the website http://www.FRE.com/284R8 review all property documents and disclosures, visit the properties and secure financing. Properties are open for viewing 5 days a week and by appointment. Broker participation is welcome.
Freedom Realty Exchange® - a member of the LFC Group of Companies
For more than 30 years, the LFC Group of Companies has served numerous Fortune 500 companies, real estate developers, investors, financial institutions and government agencies by auction-marketing thousands of commercial, industrial, land and residential properties with an aggregate value well in excess of $5 billion. http://www.FRE.com
###