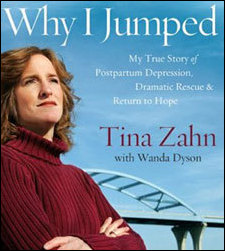 I've got you...and I'll never let you go.
New London, OH (PRWEB) October 5, 2006
The audio book download release of "Why I Jumped," by Tina Zahn, featured today on the Oprah Winfrey Show, is now available exclusively online from SonicFaith at http://www.sonicfaith.com.
"Why I Jumped" tells the story of a young Wisconsin woman, Tina Zahn, who leapt from a Green Bay bridge in an attempted suicide. Her life was saved by a police officer who grabbed her wrist as she started to fall.
Tina Zahn made national news in 2004 as she fled police and attempted suicide off the Leo Frigo Memorial Bridge in Green Bay. The daring officer who grabbed her wrist told her, "I've got you...and I'll never let you go."
"Why I Jumped" is a unique and perhaps never before told story of why someone commits suicide…or, at least, tries to. In the book, Mrs. Zahn shares her battles with post-partum depression, a near death experience, and her restoration of hope through faith in Jesus Christ.
"We're privileged to be the first and only authorized retailer for the audio book download of Why I Jumped," said Carl Obremski, co-founder and COO of SonicFaith. "We hope this release helps Tina tell her important, inspiring story."
Individuals can sample segments of Tina's life-changing story at no charge by visiting sonicfaith.com or they can listen to the entire book read by the author by downloading the audio book in either MP3 or iTunes/iPod AAC formats.
SonicFaith.com is the online storefront of SonicFaith.com, Inc., an Ohio-based retail and publishing company. SonicFaith users can save 30- 80% off retail prices by downloading digitally and avoiding the added cost of CDs. Visitors to the site can also sample audio books, make purchases through secure credit card transactions, and download content for easy playback via computer, MP3 player, or iPod.
Click here for the direct link to the Why I Jumped audio book.
# # #