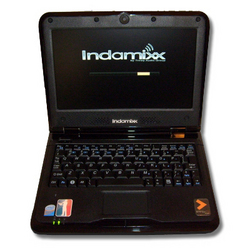 Routing audio, MIDI, and sync between apps is quicker and easier than on Windows and Mac. The included music applications are rock solid and better connected to each other than on other computers, even compared to the smooth functionality of Mac OS X.
Los Angeles (PRWEB) November 26, 2008
Trinity Audio Group Inc. expands its line of mobile audio computers by announcing today the Indamixx Laptop, an affordable Linux audio Netbook with pre-installed audio and mobility software. Ideal for value conscious Music Producers, DJ's and Remixers. "With a price of $499.00, our customers get a complete solution for less money than the cost of others software," says Creative Director Ronald Stewart.
Built around the Intel Atom processor, this small but powerful Linux netbook comes packed with audio software, perfect for any one looking to produce and broadcast music or audio recordings. From entry level beginners just starting out or seasoned audio veterans, the Indamixx Laptop provides all the necessary tools to create your masterpiece now.
No Compromises:
Transmission 2.1 OS - The same great software bundle and OS that makes Indamixx so unique, comes pre installed on the Indamixx Laptop with ready to make music applications the minute you turn it on. Complete music production software such as award winning energy XT2 and Ardour are only a mouse click away. High quality plug-ins and effects are also available right at your finger tips. Have an existing track laid down on another DAW application?
No more worries about integration with the debut of ArdourXchange a simple audio ambassador that interprets your audio sessions and imports them directly into Ardour for continued production.
Here is what Keyboard magazine said about Transmission, the audio OS that powers all Indamixx products. "Routing audio, MIDI, and sync between apps is quicker and easier than on Windows and Mac. The included music applications are rock solid and better connected to each other than on other computers, even compared to the smooth functionality of Mac OS X."
Indamixx works out of the box (plug and play) with many of today's popular audio interfaces, microphones and MIDI controllers, see confirmed devices page: http://www.indamixx.com/index.php?option=com_content&task=view&id=70&Itemid=102 .
"Yeah, but can it make a beat?"
You betcha, with over 2900 drum sounds and more than 350 included classic samples and scratches, you will tire before this droid will. Don't forget Hydrogen Drums an advanced drum machine and step recorder, similar to well known drum machines such as an MPC, SP-1200 and 808 is ready to go when you are.
"Hey DJ are you done mixing yet?"
All Indamixx music computer products ship with virtual DJ software Mixxx 1.6. Looking to start experimenting with the art of DJing? Fire up your two virtual turntables and "Rock the Bells." Features such as pitch correction and beat matching are a cinch with this feature rich DJ application.
"What about my VST's?"
Once again Indamixx has you covered with VST Host. Think of VST Host as your own mobile VST Locker. Other VST Host "type" solutions range from $599.00 - $1999.00 depending on vendor. Most of these solutions have a limited display and none run on battery. If your demands require that you be in rugged or extreme environments from time to time, this is a very affordable solution.
Mobility - Second to None.
Stream live and keep connected with vital mobility software applications:
Internet DJ Console - Broadcast your audio playlists and let your friends tune into your channel and listen to your show or podcast. Take a call at the same time Skype and reach out to your listeners with instant messaging. Surf the web with Firefox web browser, and after recording a song you can instantly upload it to your website with an on board FTP client.
Here is what Remix magazine said about some of the Indamixx mobility features: "For any Web-savvy DJs or performers who want to integrate Web streaming broadcasts into their world, Indamixx is a fantastic all-in-one solution."
Indamixx Laptop - Breaking barriers just in time for Christmas.
Being the first to break the sub 500.00 mark for a fully loaded audio centric laptop, the Indamixx Laptop has real value, strong technical specs and many bonus features.
For Indamixx Laptop technical specs and bonus features please see press release attachment.
$499.00 Indamixx Laptop is available for pre-order. Secure yours for only $99. Pre order by December 15, 2008 and guarantee delivery in time for Christmas.
Website: http://www.indamixx.com
All inquiries please contact:
Ronald Stewart
Creative Director
310-733-9285
sales at trinityaudiogroup dot com
ronaldjstewart at gmail dot com
About Trinity Audio Group Inc.:
Trinity Audio Group Inc. is a Washington state corporation specializing in the production and marketing of affordable, innovative field recorders and portable digital audio workstations.
About XT Software AS.:
XT Software is a multimedia company delivering true community-based music software. Founded in 2006, the company puts the needs of the user in focus, rather that the needs of the software developers. The main product of the company, to be found on Indamixx, is the award winning DAW energyXT, which was first released in 2003. The company is based in Norway and are selling products worldwide. Find us at http://www.energy-xt.com
The VST mark and logo is a trademark of Steinberg.
###