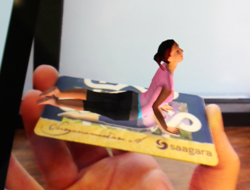 It is the embodiment of what Saagara does. By combining extraordinary images, new technology, and mobility, we're giving people something magical, unlike anything they've ever seen before
Ann Arbor, MI (PRWEB) November 21, 2012
Saagara, an Ann Arbor, MI based company - whose mission is improving health and raising consciousness via apps for the mobile device market - is about to launch an "augmented reality" app, simply called Saagara AR, just in time for the holiday season. They have also launched a new online store at, shop.saagara.com, where one can purchase deluxe cards and posters which interact with the AR app, as well as providing a wealth of information on their own. The company says that they are very excited to share this "magical" experience with their users.
Augmented Reality (AR) is a live view of a real-world environment whose elements are augmented by computer-generated sensory input, such as sound and video. In Saagara's AR app, the live view (generated using the camera on a mobile device) is augmented by audio explanations of health and wellness concepts, and 3D graphics which illustrate those concepts. Graphics include a deep-breathing yogi, a woman engaged in chakra meditation, and a 3D city that illustrates the benefits of healthy, active lifestyles. The app also provides information on Saagara's other apps, which expand upon these concepts and offer instruction for various healthy and mindful practices.
The Saagara online store features a series of high-quality, cards and posters which, when scanned by a mobile device's camera, generates the AR functions (functioning much the same as a QR code). The posters themselves will offer useful information on yoga, deep breathing, diet, and more, making them an ideal decoration for doctor offices, yoga studios, holistic health centers, and the health-conscious home. Scanning the poster or card with a mobile device activates the AR, which offers even more useful information on the subject featured on the card or poster.
Saagara's founder and CEO Bobby Peddi says of the AR experience: "It is the embodiment of what Saagara does. By combining extraordinary images, new technology, and mobility, we're giving people something magical, unlike anything they've ever seen before".
Saagara LLC is based in Ann Arbor, MI's Kerrytown district. It was founded by Peddi in 2009. Their earlier apps, which include Pranayama (deep breathing), Relax (stress/anxiety relief), and Organic Diet Buddy (finding healthy/organic food) are among the most popular health and wellness apps worldwide.