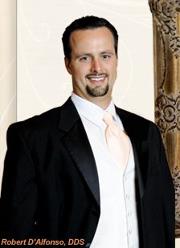 Austin, Texas (PRWEB) March 19, 2013
The Lakeway Center for Cosmetic and Family Dentistry has decided to extend its special offer on dental veneers into the spring.
The offer allows patients to get four or more dental veneers for 40 percent off — only $895 per tooth, compared to the regular price of $1,500 per tooth.
The veneers offered by the Austin cosmetic dentists come in a variety of color options and can be applied in only two appointments. Naturally stain resistant, veneers can hide discoloration, chips, breaks and gaps between teeth to give patients a healthy, natural-looking smile.
Dr. Robert D'Alfonso, one of the premier cosmetic dentists in the Austin area, will be the one outfitting patients with the veneers. As a member of the American Academy of Cosmetic Dentistry, Dr. D'Alfonso has the talent and skill to give his patients the perfect smile they've always dreamed of.
"It's great that we were able to extend this offer," Dr. D'Alfonso said. "We opened up a few more spots for the discount because we know how veneers can change lives. Veneers can give patients the confidence that comes with a beautiful smile, and that's what makes this discount so important to us."
According to Dr. D'Alfonso, the Lakeway Center for Cosmetic Dentistry has a limited number of openings for the discounted veneers, so interested patients should call the office at 512-518-6393 soon to schedule an appointment.
About the Lakeway Center for Cosmetic and Family Dentistry
The Lakeway Center for Cosmetic and Family Dentistry is the Austin cosmetic dentistry practice in Lakeway, Texas of Dr. Robert D'Alfonso. Dr. D'Alfonso practices cosmetic, restorative and general dentistry. The practice offers an in-house lab and IV sedation capabilities to help patients faster and more comfortably. Patients can also take advantage of the practice's certified massage therapist to soothe any dental anxieties. The dentists at the Lakeway Center pride themselves on providing high-quality general, cosmetic and implant dentistry that gives patients the confident, healthy smile they deserve.
###