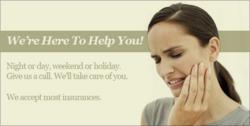 Lakeway, TX (PRWEB) November 21, 2012
Dr. Rudy Izzard, the lead dentist at Austin Dental Implants, now offers emergency dentistry in Austin.
Dr. Izzard's emergency dentistry services are available at all hours, including weekends, evenings and holidays to help people in Austin with a variety of dental issues, including chipped teeth, cracked crowns and toothaches.
Patients in need of emergency dentistry can call Dr. Izzard at (512) 843-8345 for a free consultation to discuss how he can help treat their pain.
According to the Austin Dental Implants website, patients like visiting Dr. Izzard because he is kind and professional, helping his patients feel better quickly.
"I decided to begin offering this emergency dentistry service because there are so many people in Austin who have to wait until normal working hours to see a dentist," Dr. Izzard said. "Waiting hours or days when experiencing tooth pain is miserable, and I want to help patients faster."
Dr. Izzard is one of the few dentists in the area who offers IV sedation to make his patients' visits more comfortable and lessen anxiety. His office also offers an in-house dental lab for implants, crowns, bridges and veneers. Dr. Izzard has more than 20 years of experience with dental implants and oral surgery, so he's able to provide patients with the pain relief they need.
About Austin Dental Implants at the Lakeway Center For Cosmetic and Family Dentistry
The Lakeway Center for Cosmetic and Family Dentistry is an Austin cosmetic dentistry practice in Lakeway, Texas consisting of Dr. Robert D'Alfonso and Dr. Rudy Izzard, whose practice is named Austin Dental Implants. Dr. D'Alfonso practices cosmetic, restorative and general dentistry, while Dr. Izzard focuses mainly on implants and oral surgery. The practice features an in-house lab and IV sedation capabilities. The dentists at the Lakeway Center pride themselves on providing high-quality general, cosmetic and implant dentistry that gives patients the confident, healthy smile they deserve.
###