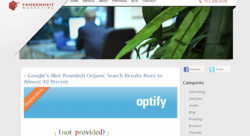 Austin, TX (PRWEB) November 15, 2012
Fahrenheit Marketing, an Austin Web design and Internet marketing firm known for excellence in content marketing strategy, has implemented a schedule of regular features on its blog.
The blog, which discusses trends in the Internet marketing and Web design fields every Monday and Wednesday, will now have a special feature each Friday in addition to its regular posting schedule.
On the first Friday of each month, Fahrenheit Marketing staff will post a "Follow Friday" blog entry, which will feature five of the best Twitter accounts on a subject chosen for the month. Subjects include Web design, user experience, search engine optimization and more.
For the second Friday of the month, the blog will provide a recap of recent news and how-to articles in topics surrounding online marketing. The goal of the recap is to help readers find useful stories they might have missed.
Fahrenheit Marketing will feature a different employee on the third Friday of each month. Fahrenheit Marketing employees are passionate about their fields and provide expert insights about topics in digital marketing, including graphic design, app development, multimedia production and more.
On the fourth Friday of each month, the blog will profile an SEO tool, a marketing communications tool or a social network. These blog posts will be written with the goal of informing current and potential clients about the power of the tools in the Fahrenheit Marketing arsenal.
"With this new blog schedule, we will be able to show by example that strategic content marketing works as an inbound marketing tactic," Fahrenheit Marketing CEO Ricardo Casas said. "We look forward to being able to introduce clients and others in the industry to new topics and strategies within online marketing and advertising."
Click here to view the blog and subscribe to its updates.
About Fahrenheit Marketing
Fahrenheit Marketing is an Internet marketing firm in Austin, Texas. Since 2008, it has provided a full range of marketing capabilities from search engine optimization to call tracking and conversion management for a variety of clients. Its employees are passionate about digital marketing and constantly innovating in their fields.