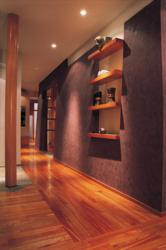 Since their retail flooring store opening last year they have been serving their customers well and growing the business rapidly.
Austin, TX (PRWEB) November 27, 2012
Chic Flooring & More opened its Round Rock retail space, serving as a one-stop shop and providing the entire gamut of products and services relating to one's remodeling, home design and building needs; however big or small all around the Austin metro area.
With the latest and finest products in flooring up for offer, the company aims to deliver personalized service, while offering customized solutions and the ideal product catering to the individual style and budget. It targets the needs and long-cherished desires of home owners, builders, designers, contractors and commercial clients; and takes care of the measurements, planning, products and installation as turnkey full service solution provider for all flooring and remodeling projects. In addition, it offers the flexibility of purchasing the material for countertops and flooring in Austin, Texas, without purchasing the follow-up installation service, provided the client has the installation crew in place already.
Its product range encompasses the finest products in flooring and includes medallions, natural stone,ceramic/porcelain tile, wood, laminate, vinyl flooring, marble, granite slabs/counter tops and cabinets; while the service offerings include free in-home/on-site measurement & estimates, free in-store consulting, professional quality installation, full solutions (products and installation), and cash & carry (products only). The new showroom offers the latest premium displays and patterns on many products, including exotic glass, a modern fireplace model design with onyx natural stone, and countertops from Austin, TX.
The company was established as a Limited Liability Corporation in late 2011 and found a great retail space for rent in the Round Rock Tx area that would allow them to easily serve the Austin metro area. They opened for business in January 2012. Chic Flooring & More is a family owned and run business headed by Ms. Elsie Taffal. It has an experienced and qualified workforce who have over 15 years of working experience and who strive to ensure customer satisfaction. They pride themselves on offering exceptional customer service and constantly aim to add warmth and elegance to the client's special space. They are trained to listen and consult to the individual client's need and share ideas to bring the unique vision of that special space in a home, yard, pool or office to reality. This is done with the invaluable help of the experienced quality installation crews with the client's budget in mind.
The staff prides themselves in providing the best experience to deliver the right outcome for one's special space, by discussing the custom design ideas with the client and thereby assisting them in finding and sourcing ideal products for their home or business. The staff begins by consulting with the client on its specific needs and vision, thereafter sharing their ideas born out of years of field exposure. They finally explain the next steps in the process to ultimately bring the client's dream to life. They offer free estimates and focus on making the customer's vision a reality within their stated budget.
Their retail space in Austin Tx, Round Rock area is open to customers from Monday through Friday from 10:00am to 5:00pm, and Saturday 10:00am to 2:00pm. For more information contact:
Chic Flooring & More
1500 S. A.W. Grimes Blvd. Ste #100
Round Rock, TX 78664
Phone: 512-388-8803
http://www.chicflooringandmore.com/