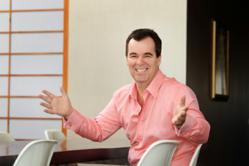 They have had to do this to avoid foreclosure on their mortgages, and the subsequent bad-credit tag they would carry for many years into the future
Sydney, Australia (PRWEB) September 13, 2012
Despite Australian mortgage lending rates falling by around 1 percent in recent months, figures from the Australian Government's Department of Human Services, reveal that many mortgage holders still struggle to meet their repayment obligations (Sydney Morning Herald, August 19).
Real estate investing innovator, Rick Otton, has now revealed non-bank options that assist both buyers and sellers to better manage the repayment process.
"The Government figures reported show that 6500 home-owners were granted emergency access to their superannuation savings in the financial year ending June 2012" explained Mr Otton. "They have had to do this to avoid foreclosure on their mortgages, and the subsequent bad-credit tag they would carry for many years into the future."
For those with little or no equity in their properties, i.e. they owe more that their home is worth in today's market, Mr Otton believes the situation is particularly grim.
"Those who are really struggling to make repayments that cover just the interest on their loans, should step back and take some time to consider the options that are available to them" said Mr Otton. "If they cannot see an immediate change in their circumstances, then finding someone to take over their loan, and then walk away with their credit history intact, could be an option to carefully think about."
"Dipping into superannuation savings to make home loan repayments in nil equity situations just eats into solid funds that they can draw upon later, when their financial situation improves."
Real Estate Investing Seminars
In a recent series of real estate investing seminars, Mr Otton, revealed other non-traditional, yet common-sense, ways to buy and sell homes in challenging markets. One of these, installment contracts, is being embraced, he says, by a growing number of Australians since it was explained in his 2012 book 'How To Buy A House For A Dollar'.
Former developer, G. Thomas from New South Wales, is one who has embraced Mr Otton's strategies.
"I've been around real estate for a fair while as a developer. Rick has taught me a lot more about negotiating and how to fix problems. Now I'm able to go out and fix other people's problems, which has also created a great income for myself" explained Mr Thomas.
The growing number of superannuation-withdrawal applications, is a real concern for Mr Otton, particularly when there are other options for people to consider.
"When buyers' circumstances fall outside of bank-lending requirements, they are finally becoming aware that their are other ways available for them to purchase. Options that are flexible, and transactions that are discussed on a one-to-one, face-to-face basis" said Mr Otton. "I know they work because I've been teaching my students about them for years, and together we have helped thousands of everyday students get into their own homes."
The government report, Mr Otton believes, is sobering. It shows that a record $100 million in superannuation funds have been withdrawn in order to avoid foreclosure.
"What really concerns me in these situations is that once those funds have been accessed, there is nowhere left to go for those who are struggling" said Mr Otton. "What happens when these funds are exhausted if their financial position hasn't improved - will they still lose their homes, and be left with depleted superannuation funds as well?"
Information on Rick Otton's 'How To Buy A House For A Dollar' strategies can be found at HowToBuyAHouseForADollar.com
About Rick Otton
Rick Otton has spent decades making money by snapping up inexpensive real estate and putting it to work building wealth. Now, he's teaching other Aussies how to do the same.
Otton is the founder and CEO of We Buy Houses, which operates in the U.S., U.K., Australia and New Zealand putting his strategies to work every day.
Otton got his start in alternative real estate investment in 1991 and within a year acquired 76 properties. In years after, Otton made a fortune using his low-risk, high-reward strategies to inexpensively acquire real estate.
Now, Otton wants to share the wealth by sharing the wisdom, teaching Aussies how to buy and sell real estate without cutting banks and other middlemen in on the deal.
Otton has been featured in a variety of television programs and magazines, including Today Tonight, A Current Affair, Australian Property Investor and more.
You can learn more about Otton and how to invest in residential real estate without using banks at RickOtton.com.
Details of Mr Otton's free one day training events can be found at HowToBuyAHouseForADollar.com/register