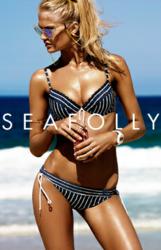 It's clear the peninsula area was in need for our products and we're really glad to be here
(PRWEB) March 25, 2013
In November last year, long-time Australian beachwear retailer Swimwear Galore launched their sixth store in the suburb of Mornington, Victoria. The response to the fashionable new swimsuit outlet has gone beyond the hopes of the company's Marketing Manager Mrs. Caz Skudar, "The response we've received from customers has been fantastic, and our sales have gone beyond our expectations."
The love of going to the beach or the pool is shared by both young and old, including body types of every shape and size. Although the mutual attraction for the sun and water is shared by many; for most, finding the right swimsuit can be a challenging task, especially since many stores stock limited ranges and altogether forget those who require plus-sizes, children's sizes, and suits for mothers-to-be.
Thankfully, Swimwear Galore has been providing an easy one-stop-shop for their customers over the past 30 years. They've become an institution for those searching out the best trends, styles and range for swimwear. The swimsuit experts offer a one-stop-shop for families, expectant parents, and anyone else searching for the right bather for their beach excursion.
The legendary Australian swimsuit retailer recently opened their sixth store in November last year, featuring over 300 square meters of garments to choose from. "Our Mornington store is very on trend, with polished timber flooring and chrome wall fixtures. We even have twelve changing rooms with a fun little element – our 'Yes', 'No,' and 'Maybe' hooks to help customers with the decision making process."
When the family-owned business opened their new store in Mornington, the feedback was immediate, "We've had a lot of the locals come in saying how great it is to have a store with such a huge range, especially for kids and men, as well as ladies. There aren't many stores like that on the peninsula" says Mrs. Skudar.
What's more, four months on and the store has exceeded sales expectations, "It's absolutely great to get this kind of support from the local area. It shows that we're giving our customers what they want – a huge range, great styles and excellent customer service."
All the Swimwear Galore stores offer maternity, mastectomy, plus-size, women's, men's, girl's and boy's options, making their outlets the ultimate destination for swimsuit and beachwear shoppers. Furthermore, the Australian swimsuit retailer has outlets all around the Melbourne metropolitan area including: Fitzroy, Cheltenham, Sorrento, Malvern and Geelong. Mrs. Skudar goes on to say, "And if for some reason you can't get to one of our six locations, you can shop with us online. We stock over 70 different brands and have a great shop by shape function."
"We're really proud to have opened our sixth store and be so well received by the community" says Mrs. Skudar, "it's clear the peninsula area was in need for our products and we're really glad to be here."
After three decades of operation and with the recent sales of their new store going beyond their aspirations, it looks like Swimwear Galore will maintain their foothold as one of Australia's best swimsuit retailers. For more the details about their latest store, locate the closest outlet, or to view their vast range of beachwear and swimwear, visit: http://www.swimweargalore.com.au/
About Swimwear Galore
Swimwear Galore began 30 years ago with just one small rack of garments in a family owned fabric shop. Since then, it has become Australia's largest swimwear retailer, offering the latest trends and over 70 of the world's leading brands all year round.
The key to their success is recognising that every 'body' is different, and that every 'body' is beautiful, which ensures they cater for all shapes and sizes that provides the most options for the entire family.
To learn more about Swimwear Galore, visit: http://www.swimweargalore.com.au/Page/About-Us