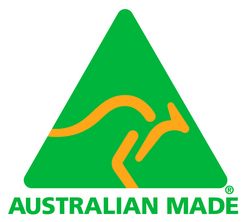 The Australian Made, Australian Grown logo clearly identifies products and produce as Australian. It is a registered mark in both Australia and the US. Consumers can be reassured that when they see this logo they are buying products and produce that reflect Australia's clean and green environment and its very high standards for food safety
Los Angeles, CA (Vocus) January 13, 2009
Shoppers across the US will find more genuine Australian made and grown foods emblazoned with Australia's famous kangaroo symbol on shelves this January.
The Australian Made, Australian Grown campaign (AMAG) is working closely with the Australian Trade Commission's (Austrade's) North American network to promote a range of Aussie food products during G'Day USA, the largest foreign country promotion held annually in the US.
American foodies in Los Angeles, San Francisco and New York should look for the kangaroo symbol, which is a reliable identifier of genuine Australian produce and products. All goods that carry the logo meet strict criteria to qualify as quality, genuine Australian products.
"The Australian Made, Australian Grown logo clearly identifies products and produce as Australian. It is a registered mark in both Australia and the US. Consumers can be reassured that when they see this logo they are buying products and produce that reflect Australia's clean and green environment and its very high standards for food safety," says Ian Harrison, Chief Executive of the Australian Made, Australian Grown campaign.
This is the fourth year AMAG has actively promoted Australian products under the G'Day USA banner via retail promotions with selected specialist food and beverage retailers. This year in-store displays and activities will promote Australian foods in San Francisco's Andronico's Market, Bristol Farms in Los Angeles and The Food Emporium in New York.
During these month long promotions US customers can taste test Aussie products as diverse as beer, cheeses, olive oil, tuna, macadamia nuts and muesli, meats, seafoods and specialty sauces.
AMAG's involvement in the 2009 G'Day USA is part of its broader program of promoting Australian products and produce in the USA - previous promotions have included leading retailers: Whole Foods (New York), Balducci's (Washington/New York), Citarella (NY) and Gelson's (LA). Further promotions with other leading retailers are scheduled throughout 2009.
Australian Made, Australian Grown is a not-for-profit campaign promoting and administering the green and gold kangaroo logo. The symbol is now recognised by 98% of Australians, trusted over any other country of origin symbol such as flags, maps, pictures of animals, etc by 86%, and can now be found on more than 10,000 products sold around the world. Only products that are registered with AMAG and meet the criteria determined in AMAG's strict Code of Practice may carry the logo.
For more information about AMAG and promoting Australian made and grown to the world, visit http://www.australianmade.us
ABOUT G'DAY USA
Australia Week 2009 is a festival running from January 13-24, 2009 that showcases the best of Australian culture, business and tourism.
For five years, Australia Week has brought Australian food and wine, travel, film, arts, culture, fashion and business to a US audience. With over 15,000 participants in 2008, it is now the largest annual foreign country promotion in the United States.
AVAILABLE FOR INTERVIEW
Ian Harrison
Chief Executive of the Australian Made
Australian Grown Campaign
Peter Brennan
food and beverage expert
Australian Trade Commission (Austrade)
MEDIA CONTACT
Brooke George
Crocmedia
brooke(at)crocmedia.com
310 658 2445
###