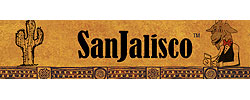 San Francisco, CA (PRWEB) March 04, 2013
SanJalisco Mexican Restaurant, a popular San Francisco eatery known for its authentic Mexican food and well-decorated interior, is offering a special Lenten menu. Only during Lent, from Ash Wednesday on February 13, through Easter Sunday on March 31, this menu will feature special dishes suited for the celebration of the Lenten season. Though Lent has already begun, there is still time to stop in and enjoy some of the seasonal dishes SanJalisco Mexican Restaurant has on its menu.
During Lent, vegetarian and seafood dishes are in high demand, especially on Fridays, and SanJalisco Mexican Restaurant has plenty of meat-free meal options. Their special Lent menu lets diners choose from three seasonal menu items served for a limited time, on Fridays in Lent, only: Tortas de Camaron, which are shrimp fritters in a flavorful Mexican red sauce, married with julienned nopales; Mojarra Frita, which is a fried tilapia seasoned in a light sauce; or the Caldo Michi, which is catfish soup made with a tomato broth and vegetables. As an added treat, Capirotada, a Mexican bread pudding, will be served with each Lent entrée order.
Besides the three seasonal menu items served for a limited time, Fridays in Lent, only, diners can also choose from one of the many vegetarian dishes offered year-round, like the Caldo de Camaron (shrimp soup), Caldo de Pescado (boneless trout soup), Chile Rellenos, Flautas de Papa, Enchiladas de Queso, or the Ensalada de Nopales (cacti salad). Stop into SanJalisco Mexican Restaurant this Friday to order one of their special Lent items. They also offer catering service for any occasion. For information on their menu or catering please call (415) 648-8383.
About the company:
SanJalisco Mexican Restaurant is the destination place in San Francisco for the best authentic Mexican food. They offer dine in, take out, and catering services and accept reservations for large parties and events. Their wait staff is always friendly and their low prices and authentic regional style recipes keep their customers returning for more. For more information please visit http://local.sfgate.com/b21664090/SanJalisco-Mexican-Restaurant.