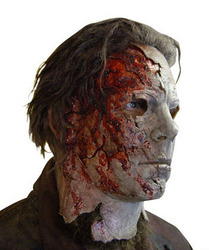 Our Halloween II costume accessories are a great match
Houston, TX (PRWEB) September 22, 2009
To celebrate the recent release of the horror film Halloween II, Internet costume company Costume Cauldron, has announced a complete range of Halloween costumes based on the ongoing Halloween movie saga first introduced in theaters 1978. Costume Cauldron is an online retailer of more than 10,000 adult Halloween costumes, kids costumes, costume accessories, props and costume party favors available from its online store.
Movie Halloween Costumes Fit for Every Horror Movie Fan
Licensed and authentic Michael Meyers Halloween costumes from Costume Cauldron are expected to go off the popularity charts owing to the timely release of the movie sequel. By way of a winning recommendation, there is the Michael Myers Adult Halloween costumes, a full-size adult Halloween costume set made of premium quality and durable poly cotton. This costume is a long sleeve jumpsuit with zipper front and is identical to what the character wore in the movie. It is available in sizes 38-46 and can fit just about every Michael Myers wanna-be.
Trick or Treat Halloween II Style
For child fans of Michael Myers, there are Michael Myers kids Halloween costumes size 10 To 14 Child . This Halloween movie costume for young boys, a polyester jumpsuit meant to capture the real Michael Myers spirit, is currently well stocked and available. This Halloween children's costume will easily fit most boys sizes 10 to 14.
Front line Halloween Costume Accessories
"Our Halloween II costume accessories are a great match" says Heather Gibbs, customer service representative at Costume Cauldron, who has already watched the movie and urges that customers place their Halloween costume orders soon for guaranteed October 31 delivery. Matching accessories handpicked to go with the movie costume ensemble include a Gallon of blood, which is extremely safe, non-toxic and yet authentic enough to turn whimpers into screams. A Blood Pint Plasma Bottle is available to take to the Halloween party for those who need a bit more blood for that special effect. The Knife with classic horror sounds, and the Michael Meyers Halloween mask, a full over the head latex mask with real hair attached, can together top off the momentary reincarnation.
A New Method to Halloween Madness
Halloween II, a horror and suspense extravaganza produced by Malek Akkad, Andy Gould and Rob Zombie who has also directed and scripted the movie, is a sequel to the older movie Halloween and builds on the existing plot in which a combination of chance, destiny and bizarre events takes the protagonist into different worlds that swing between fantasy and reality like a neurotic pendulum.
About Costume Cauldron
Costume Cauldron is an e-commerce store retailing Halloween costumes for children, teens and adults. The company provides more than ten thousand items; Halloween costumes, props and accessories in a wide variety of colors, shapes and sizes to suit every Halloween costume themed party. Costume Cauldron deploys a state-of-the-art website to enhance the customer buying experience and is further enhanced through telephone, e-mail and live chat customer support.
###