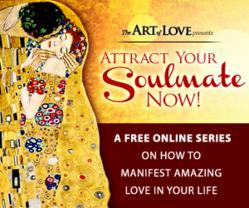 I am very excited about this online event and the potential to bring hope and happiness into hundreds of lives as people learn the secrets to manifesting a soulmate!
La Jolla, CA (PRWEB) June 22, 2012
Listeners encouraged, "Attract Your Soulmate Now"
With all the technology, social media outlets and dating sites that can bring people together across continents, it's ironic that so many people are still living with the frustration of not being able to find the love of their life--a true soulmate. Beginning July 10th, a free online series, "Attract Your Soulmate Now!" will gather the world's leading experts on love and relationships for eight days to share their love manifestation secrets and techniques in one powerful place at http://www.lovesummit.com .
Attract Your Soulmate Now! Attendees will get to personally attend "Virtual Seminars" with 45 of the world's leading love experts including: Harville Hendrix, don Miguel Ruiz, John Gray, Alison Armstrong, Neale Donald Walsch, Marci Shimoff, Evan Marc Katz, Debbie Ford, Gabrielle Bernstein, Gay Hendricks, Carol Allen, Colette Baron Reid, Dr. Diana Kirschner, Katherine Woodward Thomas, Bruce Lipton, Alex Allman, Mariel Hemingway, Nick Ortner, Caroline Muir, and others.
The Attract Your Soulmate Now! series has been carefully orchestrated to unlock the secrets to manifesting your Soulmate and living a life of incomparable love.
Hosted by international best-selling author of The Soulmate Secret, Arielle Ford, topics to be covered in the series include:

Discover what works best for you to finally attract the loving, committed, sacred partnership you've yearned for.
Dating strategies that are fun and easy to implement.
Step-by-step methods modern singles can use to overcome obstacles.
Insider secrets to the Law of Attraction.
Communication skills that speak effectively to the opposite sex.
How to move on from betrayal, anger and resentment.
Cracking the "man code" to understanding men.
Building self-love, confidence and self-esteem.
And much more!
Additional topics include cultivating deep, passionate, lasting love, how to spice up your sex life, whether or not to be friends with your ex, and more!
To register for the free Attract Your Soulmate Now! on-line series please visit : http://www.lovesummit.com
Arielle Ford
Arielle Ford is a gifted writer and the author of eight books including Wabi Sabi Love: The Ancient Art of Finding Perfect Love in Imperfect Relationships and the international bestseller, THE SOULMATE SECRET: Manifest The Love of Your Life With The Law of Attraction. She has been called "The Cupid of Consciousness" and "The Fairy Godmother of Love." She lives in La Jolla, CA with her husband/soulmate, Brian Hilliard and their feline friends. http://www.soulmatesecret.com and http://www.wabisabilove.com