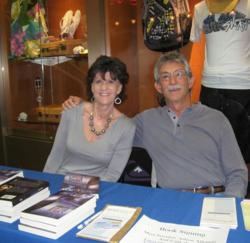 I love getting great feedback fro my readers on Twitter, Facebook and YouTube and try to personally respond to all of my friends, fans and followers-And I think they like that, at least they tell me they do.
Castle Rock, CO (PRWEB) March 16, 2012
PTSD has become a topic on the forefront of the national consciousness in recent years as returning soldiers from Iraq and Afghanistan drive public awareness about the disorder, author Arleen Alleman tackles the issue head on in her new novel,'Currents of Vengeance.'
Readers who have fallen in love with Darcy Farthing and her misadventures will come face to face with global cruise adventures and PTSD. Her character, Tom, has spent time as a Los Angeles police officer, where he witnessed grown victims of child abuse, accident and crime victims, veterans of the gulf wars and first responders struggle with PTSD.
When his friend, Mick, begins to exhibit signs of PTSD as he struggles to cope with the traumatic events of the first installment in the series, "Currents Deep and Deadly," Tom recognizes the familiar signs; "One of the characteristics of Mick's condition was the very fact that he could not discuss what had happened here on the deck a year ago. But once Darcy had shared a little of her worry about Mick's loss of intimacy and his irritability with her, Tom knew his amateur diagnosis had to be correct."
Tom puts a face and a story to PTSD, helping to explain the symptoms and repercussions of it to readers. Alleman uses her page-turning plot as a platform to address this and other timely and socially relevant topics, adding depth and meaning to a genre that is typically reserved only for fast-paced plots with very little depth. Alleman proves that by adding layers of depth to mystery stories, readers will become even more engrossed in the plots and characters as her skillful tapestry of themes offers a story and characters that readers can truly invest themselves in.
The Darcy Farthing Mystery Adventure Series
Alleman's series centers around Darcy Farthing, a pragmatic woman in her forties, who readers were first introduced to in "Currents Deep and Deadly." After coming face to face with a vicious murderer in the first novel, she wrote a book about the madness she confronted, which completely changed her life, both personally and financially. The third installment in this page-turning series, Current Assets, is slated for release in Autumn of 2012. To watch the book trailers, visit http://www.arleenalleman.com/trailer.htm.
Arleen Alleman
Arleen Alleman spent 21 years as an analyst for the Government Accountability Office. After retiring from the GAO, Alleman and her husband became avid cruisers, which inspired her to write stories set on cruise ships. In her two six-week cruises around Cape Horn; the first was spent writing her book and the second was spent doing book signings and promoting her books.
For more about Arleen Alleman, visit her website http://www.arleenalleman.com/ or follow her on Twitter @AAllemanWrites.