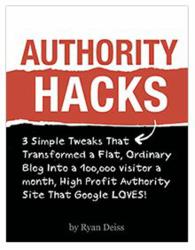 Authority Hacks includes details on the website-building feat accomplished by the Digital Marketer team.
Austin, TX (PRWEB) March 19, 2013
Online authority can't be obtained overnight, no matter how good the site's content is, and Digital Marketer's newest Special Report is proving that to be true. A new online article said Authority Hacks: Three Simple Tweaks That Transformed a Flat, Ordinary Blog Into a 100,000 Visitor a Month, High Profit Authority Site That Google Loves will change the way people view website building. It will make them sure of the ultimate online capabilities of a real authority.
Marketers know what it takes to create a quality blog or website, said the article. There are visitors, time on site, and conversion metrics to worry about, not to mention the content that needs to be fresh, credible, and worthwhile. The article added that bloggers and content creators are constantly trying to put that extra spin on things and be viewed as an expert in their field, a voice people can trust. The article said the truth is, blogging like that gets nowhere in terms of real, accountable online authority.
Authority is dominating the online search engines, said the article, and Digital Marketer knows the ways to gain it quickly. Capturing the right kind of audience, one that can eventually become customers in some capacity, is what Authority Hacks is all about.
The article from DigitalMarketer.com said that Google and the other search giants online are constantly trying to determine what constitutes as honest, ethical promotion and what boils down to spam. This separation has kept marketers on their toes since the dawn of the online world, said the piece. Instead of trying to trick Google and work around their parameters, Authority Hacks advises giving them exactly what they want.
Connecting with other authority sites, becoming a hub for expert voices, and providing the online community with information they can use and appreciate are the best ways to build authority, said the article. Digital Marketer shares their blueprint for successful authority gain, and shows websites and online companies just what to do to build their own.
Traditional blogs are vanishing, according to the Special Report. Digital Marketer believes they are not completely gone, they just aren't receiving the recognition they once did. Sheer content doesn't cut it anymore. Filling a need is easy, but the article said making people realize they have the need in the first place is the more important part.
Digital Marketer releases informational and educational materials to help businesses and entrepreneurs gain insight and information on the trends, data, and strategies that can take them to the top of their industry. Through their RAW Training courses, strategic plans, blogs, newsletters, site reviews, and Special Reports, Digital Marketer supercharges every single marketing campaign it touches. For more information, visit DigitalMarketer.com.
The article said authority is what's working now, making the newest Special Report some of Digital Marketer's best and most cutting edge advice ever. Authority Hacks includes details on the website-building feat accomplished by the Digital Marketer team, which took a brand new, unknown blog and turned it into a leading online niche community. The article said the same feat can be reached by any company or personality on the internet, and all it takes is a basic understanding of online authority.