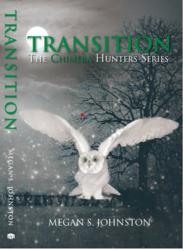 We've had a busy summer with the Virtual Book Tour, I've been doing interviews and meeting fans and that motivates me to write all the more!
(PRWEB) September 11, 2012
Transition is the story of Shelby O'Neil, a pretty college sophomore at Washington State University. Every night, Shelby has vivid, recurring dreams of the same man, a handsome stranger she discovers herself slowly falling in love with. In an attempt to shake up her waking life, Shelby takes a weekend holiday with her closest friend. When a series of bizarre events lead Shelby to search for help in the remote mountain are, she is startled to discover that her nearest neighbor is none other than the mysterious stranger from her dreams.
The man is named Develon Cole, and Shelby is shocked to learn that he is two hundred and eighty-eight years old, and he has been searching for her since he began to share her dreams. Develon is a Chimera, an ancient race of beings that were cursed by the gods. Able to shape shift and communicate telepathically, the Chimera had their souls split in two as punishment and were forced to wander the earth alone, unable to love or dream, until they found their other half.
Shelby is Develon's other half, and he must convince her that his strange tale is true, because the two of them are being hunted by other Chimera and running out of time before Shelby's own intriguing destiny is about to be revealed. Readers will love this fantastical tale of true love and find eagerly awaiting the next installment of this brilliant new series from fledgling author Megan S. Johnston.
Megan S. Johnston
Megan S. Johnston is a freelance writer and entrepreneur living in the Pacific Northwest. In addition to writing fiction, she runs several family-owned and operated businesses, which she started over twenty years ago. She is an avid reader of paranormal romance and a member of the Pacific Northwest Writers Association. She has four children and seven grandchildren and lives with her husband and two dogs in Woodinville, Washington. Transition is her début novel.
For more information on Megan S. Johnston, please visit http://megansjohnston.com/.
Connect with Megan S. Johnston on GoodReads at http://www.goodreads.com/author/show/6003257.Megan_S_Johnston.