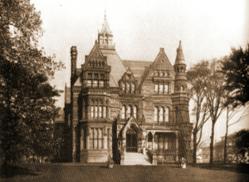 Dan's programs have been exciting and educational. His relaxed style of storytelling allows his audience to listen to history as if they are living it!
Cleveland, Ohio (PRWEB) November 17, 2011
Using stories you've never read or heard before, Dan Ruminski's entertaining presentation of Millionaires' Row on December 11, 2011, will be the highlight of an evening to raise funds for the Willoughby Rotary Foundation to fight autism. The fundraiser will take place at Gavi's Restaurant in Willoughby, Ohio, with a dinner at 5 p.m., followed by The Cleveland Storyteller's presentation at 6 p.m. All proceeds from the event will benefit local Autism clinics and awareness organizations.
Dan Ruminski's presentations are not dry history lectures, but rather entertaining stories loaded with great characters including the Rockefellers, Whites, Drurys, and others who made Millionaires' Row one of the most beautiful and wealthiest streets in the world. From 1875 to 1929, Euclid Avenue's Millionaires Row was considered by many to be grandest avenue in the world.
Join us to hear a marvelous story about the "Row" and the day-to-day lifestyles, fortunes and tragedies of its families. Discover who built the mansions, what they cost and where the money came from. Photos of some of the finest homes in the world from the period will be on display. Millionaires' Row, with its winter sleigh races and its elaborate parties, was once Cleveland's gem. What caused its decline and destruction?
Dan Ruminski creates a spellbinding entertainment experience - there are no notes, teleprompters or lecterns. Dan's stories are based not only on published works, but also on interviews of the friends and descendants of the families of the era. This enables Ruminski to reveal dramatic details and unheard stories of when Cleveland was one of the most progressive and wealthy cities, and the home of people and inventions that changed the world.
What started as one man's hobby and passion for Cleveland's history has evolved into a new speaking career to promote the city, and counter the old, worn and unflattering Cleveland stereotypes. Starting off talking to Rotary Clubs, small groups, and a few posts on his business blog, word of mouth led to Dan Ruminski speaking of Cleveland's glory days to full house audiences.
"Dan's programs have been exciting and educational. His relaxed style of storytelling allows his audience to listen to history as if they are living it!" says Katherine Malmquist, Gates Mills Branch Mgr., Cuyahoga County Public Library.
The fundraiser will feature The Cleveland Storyteller's presentation of Millionaires' Row, including:

A personal side of the great avenue and how it came into being
What made Euclid Avenue unique
What were the residents like, other than extremely wealthy
What happened to The Avenue
The web site lists The Storyteller's current speaking schedule, along information on having him appear for various groups and fund-raisers. There is also additional information on Millionaires' Row and Cleveland from 1875 - 1929. Those interested in attending the event may contact Mary at Gavi's, 440-942-8008, for more information. To be an event sponsor, interested parties should contact Willoughby Rotary President Ray Somich at 440-567-8316.
About
The purpose of Cleveland History Lessons is to explore Cleveland's unique history with regard to the many "first's" - inventions, inventors, etc. - that led the city to national and world recognition. Using little-known, carefully researched stories, Dan Ruminski, aka The Cleveland Storyteller, creates entertaining presentations of the history, hoping to apply these lessons, and help return Cleveland to greatness.
Mr. Ruminski was a teacher and coach at Gilmour Academy before buying his floor matting products business, Martinson-Nicholls. But his passion for history remained, and he has become a recognized expert on Cleveland history. When he gave his first talk on Millionaires' Row at library, where 40 were expected, over 100 showed up.
The Cleveland Storyteller continues to research the families and history of Northeast, Ohio, and in 2011, launched the new website and making himself available for larger venues and fund-raisers.
The Willoughby Rotary Foundation is a 501(c)3 non-profit organization.
###