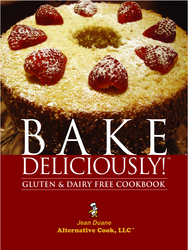 Bake Deliciously! Gluten and Dairy Free will make you reevaluate what you thought you knew about GFCF diets!
Centennial, CO (PRWEB) July 26, 2010
'Cakes don't rise as they should and their texture is somehow off… Breads crumble in your fingers into a heap of morsels that might work to coat a chicken breast, but certainly aren't what you need for that sandwich you wanted to take to work. The mock cheese doesn't melt, and the crust on your pizza is more like cardboard. And, just what the heck is that funky bean taste in the middle of that freshly baked brownie?
If you've ever attempted to bake gluten and dairy free, you may chuckle (or not!) over these and other baking disaster stories of your own. While the benefits of this dietary program may be obvious to you or your child, the reality of it is that sometimes you feel like you're living 'without' - not just gluten and dairy, but an entire recipe box of beloved foods that seem to have faded from life. Sigh - you'd sell a year of your gym membership for one creamy slice of the decadent chocolate layer cake you once so enjoyed.
Turn those frowns upside down and grab your spatula. There's help to be found in the form of a delightfully instructive cookbook full of delicious GFCF baked goods, most completed in five easy steps. "Bake Deliciously! Gluten and Dairy Free will make you reevaluate what you thought you knew about GFCF diets! " Author Jean Duane's innovative ideas will tingle your taste buds and inspire you to set off on a culinary baking journey that ranges from cheesecake to cheese crackers, brownies to breakfast muffins, and apple pie to pizza. Just as the title says, you'll soon bake deliciously again!'
About Autism Asperger's Digest: Multiple-award winning national magazine on autism spectrum disorders focuses on real life information for meeting the real life challenges of autism spectrum disorders. Addresses traditional, alternative and emerging thought, with contributions from parents, individuals on the spectrum, and noted experts in the field. Exclusive column by Temple Grandin, whose HBO released movie on her life recently captured 15 Emmy nominations. Autism Asperger's Digest.
About Jean Duane, Alternative Cook: Author and entrepreneur, Jean loves cooking deliciously 'without.' Embarking on this journey when she was diagnosed with gluten and dairy allergies, Jean has harnessed her creativity and passion for cooking into fun, practical and easy to master instruction media that include a series of full-length cooking DVDs (Chocolate, Mexican, Italian and Kids' Meals), video streams and the Bake Deliciously! Gluten and Dairy Free cookbook. Alternative Cook.
###