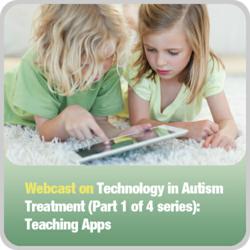 Chicago, IL (PRWEB) August 09, 2012
Special Learning Inc., the leading global provider in adaptive technology applications and educational resources used in teaching children with Autism Spectrum Disorder (ASD), has announced the schedule for its August Professional Series webcasts. The monthly series includes four web-based sessions designed to educate and inform caregivers and treatment providers, for those affected by Autism Spectrum Disorder (ASD) and other developmental disabilities, of the latest trends and therapy techniques.
Topics for the August Webcast Series include:

This course provides an overview of the latest available technology applications that can aid in teaching those affected by ASD. Participants will learn how to find the most effective apps to fit a specific developmental profile and how to utilize these apps within behavior change procedures.
This course provides training in prompting with a model such as a video and gives participants a list of various video prompting methods to increase communication, social skill and life skills.
This course provides information on types of active student responding and how to implement these strategies in an educational setting. Participants will learn how active student responding can benefit students at all levels.
6:00pm-8:00pm EST, Thursday August 30, 2012,Toddler to Preschool Social Skills (Part 1 of 4 part series)
Special Learning Inc.'s Webcast Series offers a review of theories, practices and methodologies designed for teachers, paraprofessionals, BCaBA's and BCBA's working with persons with autism and/or supervising direct treatment staff, and other professionals working with adolescents and/or adults with autism, Asperger's syndrome and related disorders. Each webcast is 120 minutes in length and is eligible for continuing education units (CEUs).
For additional information on Special Learning's Webcast Series please email contact(at)special-learning(dot)com
To view other Special Learning products and resources and to obtain additional information about how Special Learning provides educational materials and support to the autism community visit http://www.special-learning.com.
About Special Learning, Inc.
Special Learning is the leading global provider of autism and Applied Behavior Analysis (ABA) solutions, designing mobile applications and educational resources based on clinical evidence-based research to ensure that every person diagnosed with Autism Spectrum Disorder is capable of attaining an abundant and fulfilling life. Through its comprehensive web portal, Special Learning provides the global autism community with a range of ABA training and educational products, web-based and downloadable tools, and professional services to empower parents, teachers and providers so that they can help individuals with autism move up the skills spectrum intuitively, successfully and affordably.