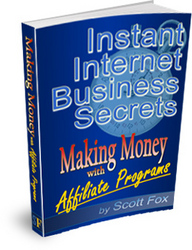 their share of the e-business revolution
Los Angeles, CA (PRWEB) December 22, 2008
"Send Proof of Unemployment - Get a Free $65 E-commerce Training Guide for Christmas." That's the holiday offer from Scott Fox, a best-selling e-commerce author, online marketing expert , and former Detroiter.
"Detroit's laid off auto workers deserve another chance, especially during the holidays and in 2009" says Scott Fox. "In these difficult economic times I believe that retraining for online business can help unemployed auto workers build their own new web site businesses using the Internet."
To back up his claim, Fox is offering to unemployed auto workers in Michigan a free copy of his latest Special Report "Making Money with Affiliate Marketing". It includes 100 pages of detailed "how to" instructions, screen shots, and strategy suggestions. Written for non-technical readers, the report provides a helpful and encouraging introduction to the profit potential of affiliate marketing. The Report was written exclusively for the subscribers of Fox's Instant Internet Business Secrets program. It now retails for $65.00 online.
"As a holiday and New Year's present I invite anyone in Michigan who has recently lost a GM (NYSE: GM), Ford (NYSE: F), Chrysler (NYSE: DAI), or related job to contact us online at ScottFox.com for this Special Report. If you fax or email us proof of your lost job, we'll email it to you for free. It can help you learn how to start your own web site business online even without much startup capital or technology training."
Fox is an expert on e-commerce entrepreneurship. He is the best-selling author of "Internet Riches" (AMACOM) and the recently launched online e-business training series "Instant Internet Business Secrets" . He has built multi-million dollar e-businesses ranging from small e-commerce startups, to web sites for celebrities like Bill O'Reilly and Larry King, to the online divisions of major corporations.
He also grew up in Detroit, graduating from Cass Technical High School and the University of Michigan. "Times have not been easy in Michigan for years, but now things have gotten even more difficult in my former home town. I hope that for 2009 my offer of this free training guide will help unemployed auto workers make the transition to self-employed Internet success stories like those I profile in my books, blog, and online radio show." says Fox. "It's clear that Michigan needs help retooling its economy. Hopefully this contribution of free web site e-commerce expertise can help."
Terms of the Free Special Report Offer
For a free copy of the "Making Money with Affiliate Programs" Special Report, unemployed Michigan workers are invited to submit proof of their unemployed status by fax to 815-846-0723 or by visiting ScottFox.com . A valid email address must accompany each submission for report delivery. Copies of the free Special Report will be delivered by email within 48 hours of receipt.
About Instant Internet Business Secrets
"Making Money with Affiliate Programs" is the most recent Special Report in the Instant Internet Business Secrets e-commerce training series. This series provides detailed, practical guidance to aspiring entrepreneurs interested in e-commerce. Like Scott Fox's best-selling book, Internet Riches, the reports are full of up-to-date strategies and how-to web site screenshots that demystify e-business for the average person.
About Scott Fox
Scott Fox is a former Detroiter who has gone on to become an Internet expert and best-selling author. A graduate of Cass Technical High School and the University of Michigan (Ann Arbor), Fox began his online career while in graduate school at Stanford University. His personal e-commerce success story is documented in his best-selling book, Internet Riches (AMACOM, 2006). Today Scott Fox is based in Los Angeles where he writes, speaks, and consults full-time helping others to get "their share of the e-business revolution".
Contact:
Connie Mettler
Publicist
press @ scottfox.com
815-846-0723
Graphics Available:

"Making Money with Affiliate Programs" Special Report Cover
Scott Fox headshot
Instant Internet Business Secrets logo
Internet Riches book cover
###