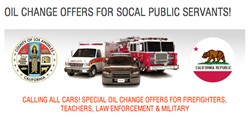 ...we just wanted to find a way to give something back.
La Crescenta, CA (PRWEB) March 19, 2013
For public servants in Southern California 360 Auto Clinic is where to get an oil change, or any auto repair service for that matter. For a limited time, this La Crescenta / Los Angeles car repair shop is extending a special offer to members of the police, firefighting, teaching and military professions that includes an oil change for $9.99 (normally $29.99), 3 oil changes for $26.99 and/or a brake job for $49.99 (normally $145.00). Because they work hard for sometimes little money, 360 wants to make their hard-earned bucks go further, at least where auto maintenance is concerned.
"Firefighters, policemen, teachers and soldiers give their all for us every day, and we just wanted to find a way to give something back," says Serge Ghahramanians, owner of 360 Auto Shop. "We're a small town repair shop for big city clients with world class mechanics. As a neighborhood business, the folks who protect our community and teach our kids are very dear to us, and we want to let them know it. If you know a public servant who lives or works in our area, please forward this article to them and help us spread the word."
360 Auto Clinic is located in La Crescenta, CA, and offers a full range of car repair services that includes: oil change and lube job, brake jobs, electrical diagnostics and repair, timing belt or chain replacements, engine repair and overhauls, cooling system service, air conditioning repair and more. Their clientele hails from La Crescenta, as well as Burbank, Pasadena, Glendale, Tujunga and the entire northeastern Los Angeles area.
For more information please visit:
http://www.360autoclinic.com/socal-car-maintenance-promo
News provided by: TRIXMEDIA Online Marketing Team