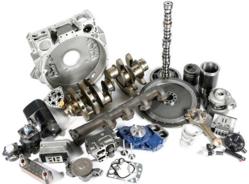 A new network of salvage companies is helping to supply the range of parts now listed for online sale.
Portland, Oregon (PRWEB) June 11, 2013
The ownership of preowned vehicle can be less expensive for drivers until important components need replaced. Not every used vehicle owner has warranty protection capable of covering the replacement cost for damaged or defective parts. The AutoProsUSA.com company is now supplying auto salvage yards parts online at reduced pricing. These prices are established to create a trusted resource to find internal and external parts at salvage prices at http://autoprosusa.com/parts.php. A new network of salvage companies is helping to supply the range of parts now listed for online sale.
Secondary resources to locate automotive parts have been in use for decades in North America. New car owners usually make contact with dealerships when parts fail or other components require replacements. Used vehicle owners can struggle with locating a price that is affordable for certain parts that need replaced. Retail pricing often fluctuates and distribution can be limited in various locations of the U.S.
The Auto Pros USA published database online now includes both salvage and junkyard parts that are offered through secondary market fulfillment companies. These listed parts can be used with pickup trucks, SUVs or cars.
The AutoProsUSA.com company website has been updated this year to reflect the new policy changes enacted this year. Brand new detail pages have been launched for most parts currently listed by suppliers online. These pages are available for public use during the research process of locating specific parts types.
A new feature enabled on each of these new created pages is the quote system for parts. Regardless of the page buyers use to research parts data, quotations can be found at the top of each page using the quote tool installed. This rapid price delivery system can be used alongside the company toll-free number for price details.
The growth of the company database published on the Internet for consumer use has been announced in multiple news releases this year. New suppliers are consistently added to expand the amount of preowned parts currently offered to buyers. The news published online at http://www.myabc5.com/story/22241350/salvage-yards-in-kansas-city-now-supplying-auto-parts-at-autoprosusacom announced the expansion into Kansas City for salvage parts and accessories.
Multiple cities have been tapped this year to assist buyers with local distribution for the secondary parts now supplied. Additional supply companies are expected to be included during the summer months to offer better solutions for parts buyers in the U.S.
About AutoProsUSA.com
The AutoProsUSA.com company database now holds thousands of preowned auto parts and accessories for imported and domestic produced vehicles. The passenger, sedan, luxury, SUV, pickup truck, hybrid and performance vehicle parts now available for research and purchase online are supplied by top fulfillment companies. The increasing amounts of junkyard and salvage dealers working closely with the AutoProsUSA.com company is helping to expand the income generated for the entire partner network. The toll-free number ordering system was installed this year as a companion to the company quotation system installed for use on the Internet.