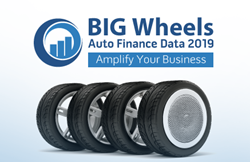 NEW YORK (PRWEB) May 14, 2019
The auto finance market inched up 2.1% in 2018, as an origination slowdown that started in 2016 continues to shrink loan and lease portfolios, new data released today shows.
Despite the deceleration, loan and lease outstandings hit an all-time high of $1.16 trillion last year, according to the annual Big Wheels Auto Finance ranking of car lenders and lessors.
Big Wheels Auto Finance has been published annually since 1999.
Auto leasing gained popularity for the eighth straight year, accounting for one of every four vehicles in financiers' portfolios. Captives were the most active originators of leases, with a handful of banks and credit unions underwriting the remaining lease volume.
Banks, meanwhile, ceded marketshare as they curbed origination of auto loans in favor of higher yielding assets.
"Financiers are looking for ways to compete amid tight margins and slowing new-car sales," said Marcie Belles, Vice President - Auto Finance, Royal Media, and author of the report. "Some large players have shifted their origination mix toward used vehicles, while others have opted to exit the market altogether."
Released today, the Big Wheels Auto Finance Data Report is the nation's only ranking of the Top 100 auto financiers in the United States by outstandings and originations. The Top 5 Companies as ranked in the 2019 report, were:
2019 Rank
1. Toyota Financial Services
2. Chase Auto
3. GM Financial
4. Ally Financial
5. Ford Motor Credit
Toyota Financial Services maintained the top spot, ending 2018 with $92 billion of loans and leases outstanding and $53.3 billion of originations.
"As volume declines, even the nation's largest financiers will need to keep a tight rein on loan performance," Belles said, noting that delinquencies become more pronounced as portfolios shrink.
Returning for 2019, the report features a one-of-a-kind data tool that allows users to access 11 years of historical data. The data tool includes functionality that enables users to filter, sort, analyze year-over-year, and export outstandings and originations data.
The 2019 Big Wheels Auto Finance Data Report is available at http://www.bigwheelsdata.com.
About Big Wheels Report
The Big Wheels Auto Finance data report is the nation's only tabulation of auto lending and leasing. The report, published annually since 1999, uses a wide range of public, private and proprietary data to formulate its ranking of the Top 100 auto finance companies, and includes an Excel spreadsheet of the rankings data as well as access to an online data tool. Our historical data tool allows purchasers to access 11 years of historical data giving users the ability to filter, sort, analyze and export data.
Big Wheels Auto Finance is published by Auto Finance News, a unit of Royal Media. Since 1996, Auto Finance News has been the newsletter of record for the auto lending and leasing market.
Press copies of the report and expert commentary on the findings are available through Marcie Belles, a 20-year Auto Finance industry veteran and author of the report. She can be reached at 212-991-6733 or mdbelles@royalmedia.com.
About Auto Finance News
Auto Finance News is the flagship publication for the auto finance industry. Published since 1996, Auto Finance News is the nation's leading source for news, insights and analysis on automotive lending and leasing. Full of valuable data and exclusive market knowledge, the subscription service, which includes a monthly newsletter and a weekly email Update, guides subscribers to better performance.