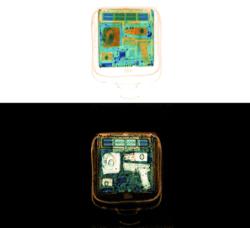 Fairfield, NJ (PRWEB) March 13, 2013
Autoclear, a global designer and manufacturer of leading security screening systems, announced today that a major branch of the Department of Defense selected the Autoclear BZ Cross-Enhanced Backscatter X-ray to screen mail and deliveries for explosives and contraband.
The BZ series incorporates the use of both backscatter and direct transmission X-ray detectors while using a single generator during the scanning process. The unique design and patented cross-enhancement software uses the strengths of both imaging methods to create X-ray images that more clearly and definitively reveal potential threats and contraband. This is especially critical when detecting explosives, which are generally organic in nature and more difficult to see with direct transmission X-ray only.
"The features of the Cross-Enhanced Z Backscatter technology will give operators better decision-making data when reviewing images, expediting the screening process while increasing security," said Brad Conway, CEO of Autoclear.
Autoclear is the only company to offer Cross-Enhanced Backscatter imaging. In addition to enhancing the screening process, the one generator design supports a smaller footprint, uses less energy and emits less radiation. The technology is available in four system configurations, including a mobile screening system.
ABOUT AUTOCLEAR
Autoclear delivers innovative and affordable security screening systems using cutting-edge imaging and detection technology for checkpoint, mail, people, cargo and vehicle screening applications. Threats detected include explosives, weapons, contraband and narcotics. Our brands include Autoclear X-ray inspection systems, Scintrex trace detectors and FedLabs metal detectors. An ISO 9001:2008 certified company, Autoclear has over 66,000 installations in more than 170 countries. Autoclear is headquartered in Fairfield, New Jersey, USA, with sales offices, representatives and service locations worldwide. Autoclear has been proudly serving the military, government and private industry for their security needs for 75 years. Visit http://www.a-clear.com to learn more.