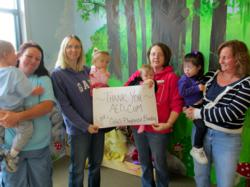 It gives me great relief that those children can play safely and happily at GiGi's Playhouse Bradley knowing we are equipped with a life-saving device if the need should ever arise.
Brentwood, TN (PRWEB) November 20, 2012
As part of their 100 AED Giveaway in 2012, AED.com selected GiGi's Playhouse in Bradley, Illinois to be one of the worthy recipients. GiGi's Playhouse is a Down Syndrome Awareness and Educational Center that provides resources, specialized teaching, and support to individuals with Down Syndrome. All of their programs are free to the families, are therapeutic in nature, and range in age from prenatal diagnosis through adulthood. In addition to the Bradley location, there are 12 Playhouses located throughout the country with a few more in the works.
Stephanie Wilson, the site coordinator for GiGi's Playhouse in Bradley was incredibly thankful for the donation. "Thank you, AED.com, so much for your very generous donation of an AED machine to GiGi's Playhouse Bradley! We have proudly hung the sign stating we are AED equipped right by our front door!" Wilson commented. She also gave insight into why having an AED at their facility is important, stating that "50% of babies born with Down syndrome have a heart defect and nearly all of those babies will need open heart surgery before their first birthday. It gives me great relief that those children can play safely and happily at GiGi's Playhouse Bradley knowing we are equipped with a life-saving device if the need should ever arise."
AED.com is proud to donate a Zoll AED Plus to this wonderful organization. To find out more about GiGi's Playhouse, visit here: http://gigisplayhouse.org/
AED.com is headquartered in Brentwood, TN. AED.com's parent company, DXE Medical Inc. was founded in 1999 and provides services to over 20,000 customers in all 50 U.S. states and 35 countries worldwide. For more information, please visit: http://www.aed.com/